Clement, Orange Finalists for 2019 Aspen Words Literary Prize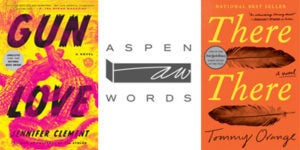 The Aspen Words Literary Prize has announced this year's five finalists, including two books published by Penguin Random House imprints: Jennifer Clement's GUN LOVE (Hogarth) and Tommy Orange's THERE THERE (Alfred A. Knopf). The Aspen Institute's annual prize was established in 2018 to recognize "an influential work of fiction that illuminates a vital contemporary issue and demonstrates the transformative power of literature on thought and culture."
Here is what the judges, including Penguin author Dorothy Allison, had to say about our finalists:
"In GUN LOVE, Jennifer Clement gives us fourteen-year-old Pearl who has grown up on the front seat of a '94 Mercury next to a trailer park in central Florida — a place she knows is nowhere. Here is delicious lyrical language, sudden violence, and compelling characters who might save you and then again might not. And yes, guns — guns in the hands of people for whom 'life is always like shoes on the wrong feet.' This is a scary, heartrending story, stinking of cordite and mildew — like a tantalizing phone call from the underclass."
"In this heartrending debut by Tommy Orange, a member of the Cherokee and Arapaho tribes, we journey with an extraordinary cast of 'urban Indians' to a huge powwow in Oakland, California. From a daring opening essay to a harrowing finale, the novel is an explosion of poetry and violence, hope and despair. Questions of identity and authenticity, loss and discovery, tradition and escape are woven brilliantly together in this tour de force about the continuing shame of America's treatment of its Native people."
Warm congratulations to Ms. Clement and Mr. Orange, their editors, and publishers.
To view all of the finalists for the 2019 Aspen Words Literary Prize, click here.
The winner of this year's $35,000 prize will be announced on Thursday, April 11, at an awards ceremony in Manhattan.
Last year's inaugural Aspen Words Literary Prize went to Riverhead author Mohsin Hamid for his novel, EXIT WEST.
Posted: February 21, 2019