Coates, Kendi, Hannah-Jones Among One World Authors to Discuss Banned Books Week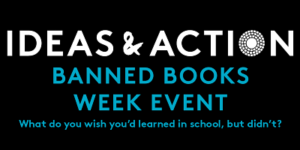 The Bluest Eye. To Kill A Mockingbird. The Hate U Give. Stamped. Of Mice and Men. What do these books have in common? Yes, they're classics—and future classics. But they're also among the Top 10 Most Challenged Books of 2020.
Join One World on Wednesday, September 29 at 8:00 p.m. (ET) via Zoom for a special Ideas & Action virtual event to investigate—and celebrate—Banned Books Week (September 26 – October 2), the freedom of ideas, and the necessity and power of even the most discomforting truths. Penguin Random House employees who wish to attend can register here.
Hosted by Chris Jackson, One World Publisher and Editor-In-Chief, and co-sponsored by the American Library Association, Ideas & Action: Banned Books will feature authors who have faced censorship directly, including Ta-Nehisi Coates (Between the World and Me), Nikole Hannah-Jones (The 1619 Project: A New Origin Story), Ibram X. Kendi (How to Be an Antiracist), and Bryan Stevenson (Just Mercy)—as well as authors who have joined the fight against censorship, including Cathy Park Hong (Minor Feelings), Heather McGhee (The Sum of Us), and more—in a mix of live and recorded video appearances that reflect on the question, "What do you wish you had learned in school, but didn't?"
Attendees will also hear from Janai Nelson, Associate Director-Counsel of the NAACP's Legal Defense Fund, about legal challenges to important books and why certain books tend to stir up conversation about free speech and censorship—when we should really be discussing their groundbreaking ideas. Rashad Robinson, president of Color Of Change (and author of the forthcoming From Presence to Power) will share additional remarks.
One World is proud to partner on this event with the American Library Association and BookPeople, an independent bookstore based in Austin, TX. When you register for your free ticket, you will also have the option to purchase books by any of the featured authors. If you purchase at least one book, you will also receive a sampler featuring excerpts of a select number of the other books. Additionally, on the registration page, you will have the option to donate any amount you wish to the Legal Defense Fund. You do not have to donate to attend the event.
The American Library Association actively advocates and educates in defense of intellectual freedom—the right of library users and all persons to read, seek information, and speak freely as guaranteed by the First Amendment. Its Office for Intellectual Freedom promotes and defends intellectual freedom through its services, programs, publications, and online resources that support library workers fighting censorship and educate library workers and the public about the nature and importance of the freedom to read. Each year ALA observes Banned Books Week, when ALA and libraries across the country celebrate the freedom to read while calling attention to attempts to censor books and other materials, especially those books that share the stories of people who are gay, trans, Black, Indigenous, and people of color, immigrants, and refugees.
!! As a reminder, if you are posting to a personal or other non-PRH account you must include the hashtag #TeamPRH !!
Posted: September 24, 2021