Coates, Luiselli, Popova, Treuer Finalists for 2020 Carnegie Medals for Excellence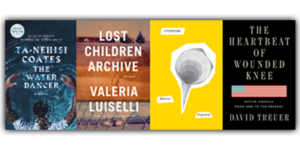 The 2020 Andrew Carnegie Medals for Excellence in Fiction and Nonfiction six-title shortlist has been announced and includes 4 books published by Penguin Random House imprints. Established by the American Library Association in 2012, the Carnegie Medals for Excellence serve as an ALA guide to help adults select quality reading material.
Our Fiction Finalists:
LOST CHILDREN ARCHIVE by Valeria Luiselli (Knopf)
THE WATER DANCER by Ta-Nehisi Coates (One World)
Our Nonfiction Finalists:
FIGURING by Maria Popova (Pantheon)
THE HEARTBEAT OF WOUNDED KNEE: NATIVE AMERICA FROM 1890 TO THE PRESENT by David Treuer (Riverhead)
The two medal winners will be revealed at the Reference and User Services Association's Book and Media Awards event at the American Library Association (ALA) Midwinter Meeting in Philadelphia on January 26, 2020.
Warm congratulations to our authors as well as their editors and publishers.
View the complete list of finalists for the 2020 Carnegie Medals for Excellence here.
Posted: November 5, 2019