Coll, Smith, Orange Win 2018 National Book Critics Circle Awards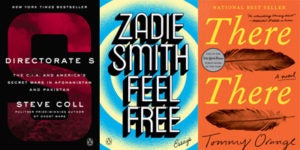 Penguin Press authors Steve Coll and Zadie Smith, and Alfred A. Knopf first-time novelist Tommy Orange were among the winners of 2018 National Book Critics Circle (NBCC) Awards conferred last night, March 14, during a ceremony at Manhattan's New School.
Founded in 1974, the NBCC now comprises more than 1,000 working critics and book-review editors throughout the country, who annually vote and bestow its awards in six categories, honoring the best books published in the past year in the United States.
Mr. Coll took home the NBCC Nonfiction award for DIRECTORATE S: The CIA and America's Secret Wars in Afghanistan and Pakistan, an epic and enthralling story of America's intelligence, military, and diplomatic efforts to defeat Al Qaeda and the Taliban in Afghanistan and Pakistan since 9/11. Ms. Smith received the NBCC Criticism award for FEEL FREE: Essays, offering a survey of important recent events in culture and politics, as well as the writer's own life. Both books were edited by Penguin Press President & Editor-in-Chief Ann Godoff.
As previously announced and reported on Igloo, the John Leonard Prize, a special NBCC award that recognizes an outstanding first book in any genre, went to Mr. Orange for his Knopf novel THERE, THERE, featuring a chorus of voices telling of the plight of the urban Native American. It also won the Center for Fiction First Novel Prize and was selected as one of The New York Times Book Review's 10 Best Books of 2018. Mr. Orange's debut, a New York Times hardcover bestseller for 14 weeks, was edited by Knopf Vice President & Executive Editor Jordan Pavlin.
Congratulations to Mr. Coll, Ms. Smith and Mr. Orange, as well as Ms. Godoff and Ms. Pavlin, and all of our Penguin Press and Knopf colleagues.
Posted: March 15, 2019