"Coloring Book Queen" to Receive OBE from Queen of England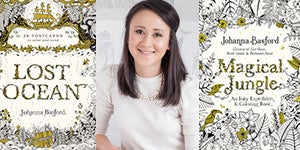 Penguin Books author and illustrator Johanna Basford, who has been called "The Queen of Coloring Books," will be awarded an OBE, "for services to Art and Entrepreneurship," by Queen Elizabeth II.
"I received a letter a few weeks ago to say I would be receiving an OBE as part of the Queen's (90th) Birthday Honors this year," Ms. Basford posted on her blog. "This was so unexpected that I called Buckingham Palace to check if they had made a mistake! If I'm honest, I don't feel I deserve praise for simply being lucky enough to do work that I love, but I'm hugely grateful to have been selected for an OBE and will receive it humbly and on behalf of our amazing, worldwide coloring community. It's an incredible honor and something that I think acknowledges more about the coloring community than it does any one individual within it –we're part of a global movement that is making people healthier, happier and more creative."
Our warm congratulations to Ms. Basford on this high honor. Her books include LOST OCEAN (Penguin) and  LOST OCEAN: 36 POSTCARDS (Penguin) as well as the upcoming MAGICAL JUNGLE (on sale 8/9/16) and JOHANNA'S CHRISTMAS (on sale 10/25/16).
Posted: June 13, 2016