Comic-Con Revisited: Watch Cool Panel Videos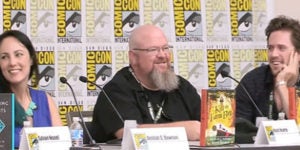 This year's San Diego Comic-Con (July 19-22) at the San Diego Convention Center drew huge waves of consumer traffic. Our Penguin Random House Digital Video team was on the scene to shoot videos of popular panels, including ones featuring Penguin Random House colleagues and authors Naomi Novik, Andy Weir, Tricia Narwani, and many more.
The Thrill of the Chase: Pursuing the Truth
Readers turn the pages of mystery, suspense, science fiction, and thriller novels for a variety of reasons—investigating the process with authors Edgar Cantero (MEDDLING KIDS), W. L. Goodwater (BREACH), Alex Grecian (THE SAINT OF WOLVES AND BUTCHERS), Kerri Maniscalco (Escaping from Houdini), Marie Lu (WILDCARD), and Demetra Brodsky (Dive Smack). Moderated by Brendan Reichs (NEMESIS).
What's New from Del Rey Books
Adventure, SFF, and fairy tale authors discuss their new and upcoming books. Featuring Katherine Arden (WINTERNIGHT trilogy), Pierce Brown (RED RISING series), Delilah S. Dawson (KILL THE FARM BOY), Christie Golden (WORLD OF WARCRAFT: Before the Storm), Kevin Hearne (KILL THE FARM BOY), Sylvain Neuvel (THE THEMIS FILES), and Naomi Novik (SPINNING SILVER). Moderated by Tricia Narwani (Del Rey editorial director).
Geek Geek Revolution Game Show
Geek Geek Revolution is a no-holds-barred geek culture game show featuring five science fiction/fantasy authors competing for the chance to be "top geek." Hold onto your hats, nerf herders, this might get ugly. Featuring Andy Weir (ARTEMIS), Delilah Dawson (KILL THE FARM BOY), Sylvain Neuvel (SLEEPING GIANTS), Kiersten White (BRIGHT WE BURN), Natalie C. Parker (SEAFIRE) and Gini Koch (ALIENS ABROAD). Moderated by Heath Corson (Nerdist).
Magic Giveth… and Magic Taketh Away
Fantasy novelists discuss the cost and consequences of magic. Featuring Tomi Adeyemi (CHILDREN OF BLOOD AND BONE), Stephanie Garber (Legendary), Sara Hanover (THE LATE GREAT WIZARD), Daniel José Older (DACTYL HILL SQUAD, STAR WARS: Last Shot), Sam Sykes (Seven Blades in Black), and Sabaa Tahir (A REAPER AT THE GATES). Moderated by David Canfield (Entertainment Weekly).
The Book Didn't Look That Way In My Head
Authors create worlds and characters in text, and then they are translated through the lens of media into stories that may or may not feel the same. Featuring authors Deborah Harkness (ALL SOULS trilogy), Nalo Hopkinson (Brown Girl in the Ring), Kass Morgan (The 100 series), Andy Weir (ARTEMIS), and Kathleen Kaufman (The Lairdbalor). Moderated by Brendan Reichs (NEMESIS).
Fearless Female Writers
Tor celebrates women in publishing: their worlds, their voices, and their unique stories. Featuring Rachel Caine (THE GREAT LIBRARY series), Cinda Williams Chima (Stormcaster), Susan Dennard (WITCHLANDS series), Seanan McGuire (WAYWARD CHILDREN series), V. E. Schwab (Shades of Magic trilogy, Villains series), and Laini Taylor (STRANGE THE DREAMER). Moderated by Kayti Burt, books editor at Den of Geek.
To view additional videos from Comic-Con produced by PRH Digital Video, click here.
Posted: August 1, 2018