Connie Schultz to Discuss Her Debut Novel at Gramercy Books Virtual Event via Zoom (6/16)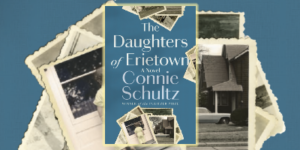 Connie Schultz, author of THE DAUGHTERS OF ERIETOWN (Random House), will be in conversation with WOSU's Ann Fisher at a Gramercy Books virtual event via Zoom on Tuesday, June 16 at 7:00pm (ET).
Hidden desires, long-held secrets, and the sacrifices people make for family are at the heart of THE DAUGHTERS OF ERIETOWN, the powerful first novel by the Pulitzer Prize–winning journalist. The evolution of women's lives spanning the second half of the twentieth century is at the center of the narrative that richly portrays how much people know—and pretend not to know—about the secrets at the heart of a town, and a family.
Schultz is a Pulitzer Prize-winning writer and a professional-in-residence in the journalism school at Kent State University, her alma mater. She is the author of two memoirs, Life Happens and …And His Lovely Wife. Schultz lives in Cleveland with her husband, Sherrod Brown, and their rescue dogs Franklin and Walter. They have four children and seven grandchildren.
!! As a reminder, if you are a PRH employee posting to a personal or other non-PRH account, you must include the hashtag #TeamPRH !! 
Posted: June 14, 2020