Consumers Are Joining "The Conversation," PRH's Books & Resources Site to Shape Our Antiracist Future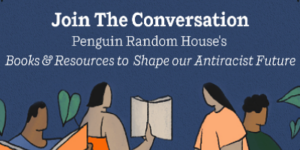 Since the mid-September launch of "The Conversation" – a collaborative program from Penguin Random House Sales and Corporate Marketing that showcases the books and authors that advance racial understanding and help promote antiracism, acceptance and inclusivity – organic promotion on social media has generated 30K impressions across platforms.
The page outpaced several Custom Category page KPIs, indicating that users were engaged with the topic. For instance, visitors clicked "View More" on the book modules at a rate of 26% (vs. an average of 15%) and engaged with the category filters, sorting books into categories such as "For Educators," "For Parents," and "For Readers and Book Clubs," etc. at a rate of 56% (vs. 21% avg).
The Conversation will continue to be promoted the rest of this year and throughout 2021, especially in connection to timely events such as Native American Heritage Month in November, Black History Month in February, Asian American Heritage Month in May, and Latinx Heritage Month in September and October.
To participate in The Conversation, visit www.penguinrandomhouse.com/theconversation.
This organic employee initiative grew out of an internal company brainstorm session about how to assist those learning about anti-racism can take the next actionable steps. It also reflects discussions held by PRH employees throughout the company, including members of the PRH U.S. Diversity & Inclusion Council.
"In virtual classrooms and virtual conference rooms, and within our company, people are grappling with how to discuss our world, and how to create real and lasting change," said Jaci Updike, President, Sales, Penguin Random House, U.S. "We want to amplify the work of our authors, engage with readers, listen carefully to what is being asked of us, and share resources that fuel conversation and spark collective action."
The Conversation includes many resources to facilitate dialogue about books by Toni Morrison, James Baldwin, and other iconic writers. It will also provide toolkits, inspired by the works of Ibram X. Kendi and Jennifer L. Eberhardt, for creating anti-racist workplaces. The website will feature books and content from all of Penguin Random House's publishing divisions, and the company is creating book bundles and materials for independent bookstores to help these businesses with their outreach to local schools and libraries.
Up next for The Conversation is the forthcoming launch of the Family Reads program, which is a joint venture between Sales and Adult & Kids Marketing & Publicity teams to create a Family Reads initiative around titles that have editions for different age groups. Proposed elements include events, social media, bundles, and ancillary reading guides to foster family conversations.
"We want to maintain momentum in our communities, and provide resources for our collective journey ahead," said Updike. "All of PRH is committed to the ongoing development of The Conversation – to creating new material and responding to current events as close to real-time as we can."
Posted: October 29, 2020