CONVICTED and THE RED BANDANNA Win Christopher Awards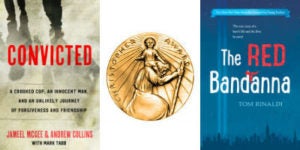 The 69th annual Christopher Awards, presented in New York City on May 17, celebrated and honored writers, producers, directors, authors and illustrators whose work "affirms the highest values of the human spirit." WaterBrook's CONVICTED: A Crooked Cop, An Innocent Man, and an Unlikely Journey of Forgiveness and Friendship by Jameel McGee and Andrew Collins with Mark Tabb won in the Books for Adults category. Viking Books for Young Readers' THE RED BANDANNA by Tom Rinaldi won in the Books for Young People category.
Warm congratulations to the authors as well as their editors and publishers.
CONVICTED is a remarkable true story about a man who chose to forgive the cop who falsely imprisoned him. As current as today's headlines, this explosive story reveals how these radically conflicted men chose to let go of fear and a thirst for revenge to pursue reconciliation for themselves, their community, and our racially divided nation.
In the young readers' adaptation of his New York Times bestselling Penguin Press book. THE RED BANDANNA, award-winning ESPN reporter Tom Rinaldi brings Welles Crowther's inspirational story of selflessness and compassion to life. On a day that changed a nation, one young man found his calling. Welles didn't see himself as a hero. He was just an ordinary kid who played sports, volunteered for the fire department in his town, and eventually headed off to college and then to Wall Street to start a career. Throughout it all, he always kept a red bandanna in his pocket, a gift from his father when he was little. On September 11, 2001, Welles was at his job on the 104th floor of the South Tower of the World Trade Center when the Twin Towers were attacked. What he did next would alter the course of many lives. That day, the legend of the Man in the Red Bandanna was born.
View the complete list of 2018 Christopher Awards winners here.
The Christophers, a nonprofit founded in 1945 by Maryknoll Father James Keller, is rooted in the Judeo-Christian tradition of service to God and humanity. The ancient Chinese proverb—"It's better to light one candle than to curse the darkness"— guides its publishing, radio, and awards programs.
Posted: May 23, 2018