Corinna Luyken Launches THE TREE IN ME via Zoom (3/21)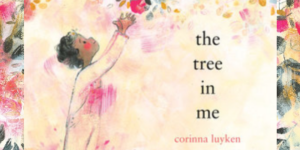 Corinna Luyken is launching her new book, THE TREE IN ME (Dial Books for Young Readers), in conversation with Jennifer LaGarde (Librarygirl.net) at a virtual event hosted by Browsers Bookshop (Olympia, WA) via Zoom on Sunday, March 21 at 5:00 pm (ET).
THE TREE IN ME is a stunning and sensitive portrait of the strength within each of us and the nourishment we receive from the natural world, by the New York Times bestselling creator of My Heart and The Book of Mistakes.
Through poetic text and exquisite illustrations of children reveling in nature, this picture book explores the various ways we as human beings are strong, creative, and connected to others. Each of us is like a tree, with roots and fruit, and an enduring link to everything else in nature. "The tree in me is strong. It bends in the wind, and has roots that go deep . . . to where other roots reach up toward their own trunk-branch-crown and sky."
Corinna Luyken makes art in the Pacific Northwest, where she is inspired by small things (like hearts, tree, and mistakes); and by big things (like love, nature, and the web of relationship that connects us all). She is the author/illustrator of two previous picture books, My Heart and The Book of Mistakes, and the illustrator of Adrian Simcox Does Not Have a Horse and Nothing in Common.
!! As a reminder, if you are posting to a personal or other non-PRH account you must include the hashtag #TeamPRH !!
Posted: March 17, 2021