Cover of Philip Pullman's THE BOOK OF DUST: La Belle Sauvage Revealed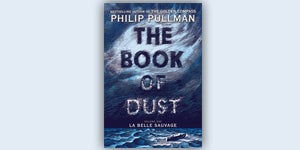 The cover of THE BOOK OF DUST: La Belle Sauvage, the first volume of Philip Pullman's highly anticipated The Book of Dust trilogy, is now available. The cover was illustrated by Chris Wormell in his trademark woodcut style. The powerful illustration features a canoe named La Belle Sauvage being piloted through a storm by her owner, Malcolm Polstead, the hero of this new story. Chris Wormell has also created a different cover illustration for the edition of the book being released in the UK. 
"I've admired Chris Wormell's artwork for a long time," says Philip Pullman. "When the chance of having him illustrate the covers of my new novel came along, I leapt at it. I relish his sure, strong line and the graphic power of his images. It's been a delight to see the work emerge, and I'm thrilled with the result."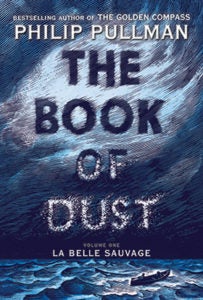 Chris Wormell adds: "Twenty years ago my twelve-year-old son recommended a book he'd just finished reading. It was called The Golden Compass. I loved it. My whole family loved it and the two further volumes of the trilogy that followed. One of the first things my younger daughter—then eight—saw on the stage was the National Theatre's production of His Dark Materials. She was spellbound, and she's loved live theater ever since. It's been wonderful to work with an author my family has enjoyed so much. Indeed, my older daughter commented, 'Wow, Dad! Isn't that one of the coolest jobs you've ever done?'"
Entertainment Weekly  posted an exclusive online cover reveal on Thursday, June 29, and a feature article is in the publication's July 7 edition.  To read the article, click here.
THE BOOK OF DUST: La Belle Sauvage will be published simultaneously in the US and UK on October 19, 2017. It will be distributed by Random House Children's Books and its Alfred A. Knopf Books for Young Readers imprint in the US with an announced first print of 500,000 copies, and by David Fickling Books in association with Penguin Random House Children's in the UK. La Belle Sauvage will be published in hardcover and ebook, and is available for pre-order now. Listening Library will simultaneously publish an audiobook edition.
In a recent statement,  Mr.Pullman said of the title: "Who or what is La Belle Sauvage? She is a boat, a canoe to be precise, and her owner is a boy, Malcolm Polstead, the hero of this story whom we have seen in an earlier part of Lyra's story (if we were paying attention. He only had a walk-on part there). The canoe is important in this part of The Book of Dust, because some of the story is set during a massive flood."
Two decades after The Golden Compass—the first book of Pullman's world-famous His Dark Materials trilogy, which has sold more than 17.5 million copies in over 40 languages—The Book of Dust (#BookofDust) will return to the parallel world that has enthralled readers young and old. La Belle Sauvage is set ten years before The Golden Compass and centers on the much-beloved Lyra Belacqua. Alethiometers, dæmons, and the Magisterium all return to play their part.
Posted: June 30, 2017