CRAFTED x Riverhead Event Series Debuts with "Sip & Stich," Featuring Author Elizabeth Gilbert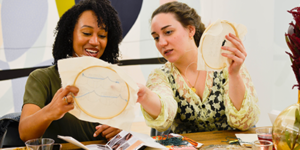 The brand-new CRAFTED x Riverhead event series debuted last week with Sip & Stitch! A room of 40+ booklovers embroidered custom patterns, talked books, and enjoyed delicious drinks and food courtesy of Le Grand Courtage and City Bakery. Sip & Stitch guests received an embroidery starter kit, featuring one of three designed stitching patterns inspired by the iconic Riverhead Tote, CITY OF GIRLS by Elizabeth Gilbert, and RED AT THE BONE by Jacqueline Woodson. After mingling in the gorgeous lululemon SoHo community space, guests sat down for a quick tutorial on a few stitches and were encouraged to get creative with their designs. A major highlight of the night was hanging out with beloved author Elizabeth Gilbert, pictured below with some of the participants.
The guiding mission for the CRAFTED x Riverhead series is to put a new spin on the classic "book club" by pairing active discussion with active hands. Each event will feature different crafts and books with the overarching goal of gathering communities of readers together in innovative ways. Follow along for future event information because we'd love to see you there! If you'd like to send in your suggestions for CRAFTED x Riverhead events, reach out to the team at craftedriverhead@gmail.com.
And if you're interested—the CRAFTED team has patterns available for download here.
Posted: October 15, 2019