Craig Unger to Delve Into His New AMERICAN KOMPROMAT Book via Crowdcast (2/4)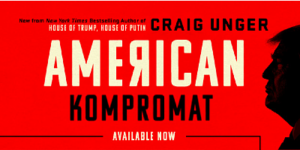 Craig Unger will discuss his newest book, AMERICAN KOMPROMAT (Dutton), at a virtual event hosted by The Strand Bookstore via Crowdcast on Thursday, February 4 at 7:00 pm (ET).
Kompromat is Russian for "compromising information." Unger's AMERICAN KOMPROMAT tells of the spies and salacious events underpinning men's reputations and riches. It tells how a relatively insignificant targeting operation by the KGB's New York rezidentura (New York Station) more than forty years ago—an attempt to recruit an influential businessman as a new asset—triggered a sequence of intelligence protocols that morphed into the greatest intelligence bonanza in history. And it tells of a coterie of associates, reaching all the way into the office of the Attorney General, who stood to advance power, and themselves.
Craig Unger is the author of six books, including the New York Times bestsellers House of Bush, House of Saud, and House of Trump, House of Putin. For fifteen years he was a contributing editor for Vanity Fair, where he covered national security, the Middle East, and other political issues. A frequent analyst on MSNBC and other broadcast outlets, he was a longtime staffer at New York Magazine, has served as editor-in-chief of Boston magazine, and has contributed to Esquire, The New Yorker, and many other publications. He also appears frequently as analyst on MSNBC, CNN, and other broadcast outlets. Unger has written about the Trump-Russia scandal for The New Republic, Vanity Fair, and The Washington Post. He is a graduate of Harvard University and lives in Brooklyn, New York.
!! As a reminder, if you are posting to a personal or other non-PRH account you must include the hashtag #TeamPRH !!
Posted: February 2, 2021