Creative Writing Awards Competition Launches With New Amanda Gorman Award for Poetry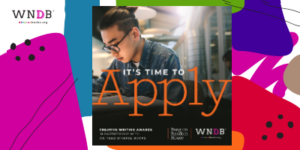 Penguin Random House and We Need Diverse Books (WNDB), a national grassroots organization that advocates for diversity in children's literature, have opened submissions for the 2022 Creative Writing Awards. This is the first year the awards are featuring the newly named Amanda Gorman Award for Poetry. For the third consecutive year, we are partnering with WNDB to nurture the next generation of literary talent by supporting young writers from a variety of backgrounds.
The 2022 competition launches on October 1, 2021, and closes on February 1, 2022 — or when 1,000 applications have been submitted. Current high school seniors who attend public schools in the United States, including the District of Columbia and all U.S. territories, and are planning to attend college in fall 2022, are eligible and encouraged to apply.
Five first-place $10,000 prizes will be awarded in the categories of: the Amanda Gorman Award for Poetry; the Maya Angelou Award for spoken-word; fiction/drama; and personal essay/memoir. In recognition of the Creative Writing Awards previously being centered in New York City, the competition will award an additional first-place prize to the top entrant from the NYC area. Runners up will also be honored.
To apply and to read more about eligibility and rules, please click here.
Winners will be announced and posted on the Penguin Random House Creative Writing Awards website in early June.
Check out the video below to hear from some of this year's winners and learn more about the program.
Posted: October 1, 2021