Crown Author Brittany K. Barnett Works to Break the Cycle of Incarceration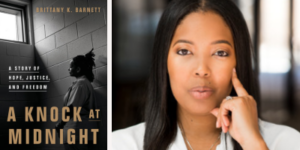 Brittany K. Barnett, author of A KNOCK AT MIDNIGHT: A Story of Hope, Justice and Freedom (Crown), named Amazon's Best Book of 2020 and on sale Tuesday, August 3 in paperback, continues to work tirelessly (pro bono) on behalf of incarcerated individuals serving long-term prison sentences imposed by overly harsh federal drug laws.
Ms. Barnett is an award-winning attorney and entrepreneur focused on social impact investing. She is dedicated to transforming the criminal justice system and has won freedom for numerous clients serving life sentences for federal drug offenses—seven of whom received executive clemency from President Barack Obama. She was also part of the legal team that helped secure clemency from President Trump for Alice Johnson, a case that brought Kim Kardashian West to the White House to advocate for her release. On his last night in office, President Trump granted clemency to another of Ms. Barnett's clients, Chris Young.
PBS News Hour recently aired a moving segment on Girls Embracing Mothers, the non-profit that Ms. Barnett founded for young women with mothers behind bars, to break the cycle of incarceration and help give them the opportunity to lead successful lives with vision and purpose. Ms. Barnett was interviewed, along with Sharanda Jones, whose story of her path from prison to freedom is shared in A KNOCK AT MIDNIGHT. To watch the segment, click here.
ABC News and Good Morning America also aired segments featuring Ms. Barnett, Ms. Jones and Chris Young – whose story is also told in A KNOCK AT MIDNIGHT.
Posted: August 3, 2021