Crown Group, Grupo Editorial Author Nadia Murad Awarded 2018 Nobel Peace Prize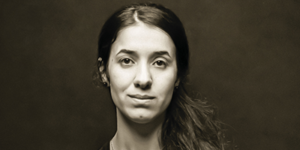 Nadia Murad, a former captive of the Islamic State, was one of the two winners of the 2018 Nobel Peace Prize, announced today by the Norwegian Nobel Committee. Her book, THE LAST GIRL, published by Crown Publishing Group imprint Tim Duggan Books, is an intimate memoir of survival, chronicling her harrowing and ultimately inspiring experiences.
Murad's THE LAST GIRL is also published by Penguin Random House Grupo Editorial, under the title Yo sere la ultima.
Murad shares this year's Nobel Peace Prize with Denis Mukwege, a gynecologist and surgeon, has long worked to treat thousands of women and girls affected by rape and sexual violence in the Democratic Republic of Congo.
"Both laureates have made a crucial contribution to focusing attention on, and combating, such war crimes," said Berit Reiss-Andersen, chair of the Norwegian Nobel Committee. "Nadia Murad is the witness who tells of the abuses perpetrated against herself and others. Each of them in their own way has helped to give greater visibility to wartime sexual violence, so that the perpetrators can be held accountable for their actions. A more peaceful world can only be achieved if women and their fundamental rights and security are recognized and protected in war."
Murad's story—as a witness to the Islamic State's brutality, a survivor of rape, a refugee, a Yazidi—has forced the world to pay attention to the ongoing genocide in Iraq. It is a call to action, a testament to the human will to survive, and a love letter to a lost country, a fragile community, and a family torn apart by war.
Posted: October 5, 2018