Crown Hosts NYU Students for an Inside Look at the Making of a Book That Matters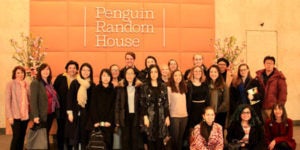 A contingent of 28 students from the NYU School of Professional Studies, led by Andrea Chambers, Director of NYU's Center for Publishing, visited the Crown Publishing Group offices at 1745 Broadway on Friday, April 6, to learn about and discuss a forthcoming Fall 2018 title, THIRST by Scott Harrison, to be published on October 2 by CPG imprint Currency. The book is an inspiring personal story of redemption, second chances, and the transformative power of change, from the founder and CEO of the successful nonprofit charity: water.
The Crown presentation featured Campbell Wharton, Associate Publisher, Currency; Group; Derek Reed, Editor, Convergent; Donna Passannante, Vice President, Executive Director, Marketing, Crown Publishing Group; Carisa Hays, Vice President, Executive Director of Publicity, Crown Publishing Group; and Megan Schumann, Manager, Publicity, Crown Publishing Group. They provided insights into the acquisition, editing and publishing processes as well as marketing and publicity campaigns for the book, and how it could help change the conversation about charities and our personal involvement in good works. The event concluded with a lively question & answer session.
A few days later, NYU student Amanda Orozco wrote a wonderful blog post titled "Thirst for Change: Crown Publishing and Author Scott Harrison Team Up to Make a Difference." Here is an excerpt:
"What if… ?" This question is a leitmotif for Scott Harrison's life and new book. What if a nightclub promoter wanted to do more with his time? What if he gave up the New York club scene to help people in developing African nations have clean water? What if he started a charity, charity: water, that put 100% of its donations into building wells in African nations with poor or polluted water supplies? What if his efforts helped 7.3 million people in Africa finally have clean drinking water and a reduction in disease? What if he could grow his charity from two people to over 70 in less than ten years? What if he could raise $3 million in less than 15 minutes? What if he could change the way charities are run forever… and change lives?
"NYU M.S. in Publishing: Digital & Print Media students found out the answers to these and other questions when they were invited to be early readers of THIRST, Harrison's forthcoming memoir. They were given special reading galleys in preparation for a recent visit to Harrison's publisher, the Crown Publishing Group. During their visit, the students got to hear the story behind the story – the amazing publishing process of this book – from the members of the team that are bringing the book to life."
To read the complete NYU blog post, click here.
Please note: author Scott Harrison will be featured at a Penguin Random House "Lunch & Learn" on Tuesday, June 5 at 1745 Broadway. Check back on Igloo for details in the coming days.
Posted: April 20, 2018