Crown to Publish NY Governor Andrew Cuomo's AMERICAN CRISIS: Leadership Lessons From the COVID-19 Pandemic October 13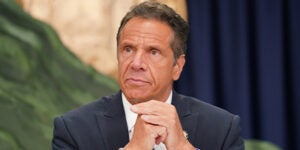 Crown, an imprint of the Random House Publishing Group, announced today that it will publish AMERICAN CRISIS by Andrew Cuomo on October 13, 2020. A revealing, behind-the-scenes account of his experience leading New York State through the COVID-19 epidemic, AMERICAN CRISIS is an important chronicle of this unprecedented moment in history, an urgent assessment of the factors that have and continue to impede our national response to a devastating health and economic catastrophe, and a powerful testament to true leadership in times of extreme crisis.  
The book will be released in physical and ebook formats, with an audio book edition read by Andrew Cuomo to be issued simultaneously by Penguin Random House Audio.
In early March of 2020, Andrew Cuomo found himself at the forefront of one of the greatest threats his state—and the United States—has ever faced. The novel coronavirus had arrived in New York, threatening the lives of its nineteen million residents. Little understood and devastating in its impact, the contagion spread rapidly and with rates of infections, hospitalizations, and deaths multiplying, New York quickly became the global "ground zero" of the pandemic. Immediate, responsible, and effective action was required to respond to a rapidly evolving national and local emergency with millions of lives hanging in the balance.
In the absence of a competent and cohesive federal response, the country would instead be faced with a void—on containment protocols, on testing, on treatment, scientific facts and data, and a glaring lack of leadership in our great moment of crisis. With his no-nonsense daily briefings—viewed by millions of people around the world—a commitment to truth-telling, and a science-based plan for flattening the curve, Andrew Cuomo filled that void. New York's governor soon became the nation's governor and a standard-bearer for the organized response we so desperately needed. With the crisis far from over, six months into this global pandemic, New York's rate of infection stands below 1 percent and the Cuomo administration's response has become the model for effective action.
In his own voice, Andrew Cuomo chronicles in AMERICAN CRISIS the ingenuity and sacrifice required of so many to fight the pandemic, sharing his personal reflections on forty years in government and the decision-making that shaped his political policy, and offers his frank accounting and assessment of his interactions with the federal government and the White House, as well as other state and local political and health officials. Real leadership, he argues, requires clear communication, compassion for others, and a commitment to truth-telling—no matter how frightening the facts may be.
Writes Andrew Cuomo: "If you don't feel fear, you don't appreciate the consequences of the circumstance. The questions are what do you do with the fear and would you succumb to it. I would not allow the fear to control me. The fear kept my adrenaline high and that was a positive. But I would not let the fear be a negative, and I would not spread it. Fear is a virus also."
AMERICAN CRISIS includes a clear game plan for what we as individuals—and as a nation—need to do to protect ourselves against this still-unfolding disaster and those to come. It is a remarkable portrait of leadership during crisis and a gritty story of gut-wrenching choices that point the way to a safer future for us all. Broader than just COVID, AMERICAN CRISIS is the larger story of where America is and where it needs to go.
Andrew Cuomo was represented by Robert Barnett of Williams & Connolly, with Crown acquiring world, electronic, and serial rights to the work.
 About the Author:
Andrew Cuomo is the fifty-sixth governor of New York, serving since 2011. He is the author of All Things Possible: Setbacks and Success in Politics and Life and Crossroads: The Future of American Politics.
The opinions and statements contained in this book are those of the author only and do not represent those of any State government agency.
Posted: August 18, 2020