Daisy Edgar-Jones to Star in Film Adaptation of WHERE THE CRAWDADS SING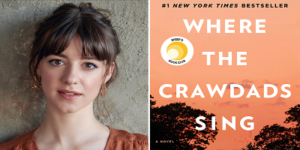 Daisy Edgar-Jones has been cast in the starring role of Kya in the 3000 Pictures and Hello Sunshine film adaptation of Delia Owens' #1 New York Times bestselling Putnam novel, WHERE THE CRAWDADS SING, it was reported by Deadline. Edgar-Jones is one of the stars of the Emmy-nominated Hulu adaption of the Hogarth novel, NORMAL PEOPLE by Sally Rooney.
The WHERE THE CRAWDADS SING film is being directed by Olivia Newman from a screenplay written by Oscar-nominated screenwriter Lucy Alibar. Reese Witherspoon and Lauren Neustadter are producing for Hello Sunshine, with Elizabeth Gabler, Erin Siminoff and Aislinn Dunster overseeing the project for Sony's 3000 Pictures.
In WHERE THE CRAWDADS SING, rumors of the "Marsh Girl" have haunted Barkley Cove, a quiet town on the North Carolina coast. So in late 1969, when Chase Andrews is found dead, the locals immediately suspect Kya Clark, the so-called Marsh Girl. But Kya is not what they say. Sensitive and intelligent, she has survived for years alone in the marsh that she calls home, finding friends in the gulls and lessons in the sand. Then the time comes when she yearns to be touched and loved. When two young men from town become intrigued by her wild beauty, Kya opens herself to a new life–until the unthinkable happens. Through Kya's story, Owens reminds us that we are forever shaped by the children we once were, and that we are all subject to the beautiful and violent secrets that nature keeps.
Posted: October 26, 2020