Dan Harris Talks About MEDITATION FOR FIDGETY SKEPTICS (4/2)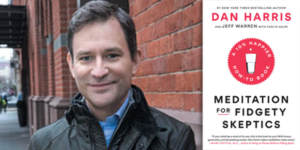 Dan Harris will discuss his book MEDITATION FOR FIDGETY SKEPTICS (Speigel & Grau/Random House) on Lunch & Learn at 12:30pm (EST) on Instragram @RandomHouse.
In MEDITATION FOR FIDGETY SKEPTICS, Harris and Jeff Warren, a masterful teacher and "Meditation MacGyver," embark on a gonzo cross-country quest to tackle the myths, misconceptions, and self-deceptions that keep people from meditating. It is filled with game-changing and deeply practical meditation instructions—all of which are also available (for free) on the 10% Happier app. This book is a trip worth taking.
Dan Harris is the co-anchor of ABC's Nightline and the weekend editions of Good Morning America. He wrote 10% Happier, a #1 New York Times bestseller, then launched the 10% Happier podcast, and an app called 10% Happier: Meditation for Fidgety Skeptics.
Posted: March 30, 2020