Dani Shapiro Podcast Nominated for Webby Award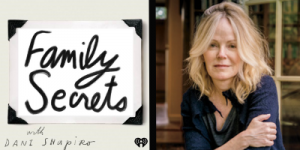 Knopf author Dani Shapiro's hit podcast, Family Secrets, has been nominated for a Webby Award in the Best Series category alongside Wondery's Dr. Death, It Was Said (Cadence 13), History This Week (A&E), and Truth & Lies: Jeffrey Epstein (ABC News). Family Secrets has been featured on NBC-TV's Today Show and has over 17M downloads to date. Season five of the podcast dropped earlier this month and features interviews with Alison Bechdel, Amaryllis Fox, Emma Ramos and others. Family Secrets was developed by the Author Platforms team in partnership with iHeart Radio. You can subscribe to Family Secrets on Apple, Spotify or wherever you get your podcasts.
To show your support and vote in the Webby Awards, please visit this link. Voting closes on May 6, 2021.
Dani Shapiro is the author of the New York Times bestselling memoir, Inheritance, available in paperback from Vintage Books and on Penguin Random House Audio, as well as Hourglass, Still Writing, Devotion, Slow Motion and five novels, including Black & White and Family History. She is represented by the Penguin Random House Speakers Bureau.
Posted: April 26, 2021