Daniel Jones's "Modern Love" NYT Column Marks 15th Anniversary with Revised & Updated Book and Upcoming Streaming Series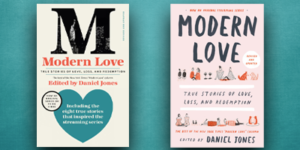 The most popular, provocative, and unforgettable essays from the past fifteen years of Daniel Jones's New York Times "Modern Love" column are featured in the revised and updated, media tie-in edition of MODERN LOVE: True Stories of Love, Loss and Redemption, on sale from Broadway Books on October 1 (also available as a trade paperback). There are contributions from Andrew Rannells, Ayelet Waldman, Amy Krouse Rosenthal and Veronica Chambers, among others, with stories from the upcoming anthology series – which starts streaming via Amazon Prime beginning on October 15 – starring Tina Fey, Andy Garcia, Anne Hathaway, Catherine Keener, Dev Patel, and John Slattery.
Some of the stories are unconventional, while others hit close to home. Some reveal the way technology has changed dating forever; others explore the timeless struggles experienced by anyone who has ever searched for love. But all of the stories are, above everything else, honest. Together, they tell the larger story of how relationships begin, often fail, and—when we're lucky—endure.
In this Three Questions for an Editor interview, Crown/Broadway Senior Editor Matt Inman offers insights into working with Daniel Jones on the new edition of MODERN LOVE, what about these stories continue to connect with so many readers, and how he thinks the upcoming anthology series will resonate with viewers and inspire them to pick up the book.
What accounts for the enduring popularity of Daniel Jones's New York Times "Modern Love" column?
Everyone's life is touched by love in some way. We all experience it, or its absence, from the moment we're born until the moment we die. I think Dan's "Modern Love" column originally found its audience in the era of Sex and the City and PostSecret and LiveJournal because it felt confessional, controversial, and way more honest than the depictions of love we saw in pop culture. (Plus, I don't know about you, but I can't say those words without thinking of David Bowie's song, or of Greta Gerwig dancing across Lower Manhattan to it in Frances Ha.) I believe that the column has remained popular over the past fifteen years because it's constantly surprising us or capturing something we've just debated with friends over drinks—and it's always expanding the ways we think about love. I also suspect that every time someone reads "Modern Love," in the back of their mind they're secretly thinking about the story they would love to tell—the memorable date, the impossible relationship, the unexpected connection. I'm not sure I could be that brave, or vulnerable, in such a public forum, but I'm glad so many others have been.
How would you describe the process of updating the MODERN LOVE book and why do you think the essays are relevant for today's readers?
Fortunately, the first edition of the collection, which drew from the first two years of "Modern Love," was brilliantly compiled and edited by Dan Jones and my colleague Rachel Klayman—so we had a great starting point. For this new edition, Dan and I worked together closely, discussing which stories stood the test of time, and which were better seen as snapshots of the moment they were written in. While we were pleased that many essays were just as powerful today, we also couldn't escape the fact that the first edition was published in 2007, before most LGBTQ people could legally marry and before anyone could swipe right on Tinder. To select new essays, we focused on pieces that reflected the column's growth, and that contributed to a more diverse understanding of how we experience love.
In what ways do you think the MODERN LOVE streaming series will resonate with viewers and inspire them to check out the book?
I think that rapid technological, cultural, and political changes have left us all feeling a little isolated right now, and many people are hungry for stories about the ties that bind us together. While these essays don't all have neat endings—few love stories ever do—the heart and humor with which they explore love and connection are a nice antidote to these tumultuous times. The series also has some great people involved, including actors like Tina Fey, Anne Hathaway, Dev Patel, Andrew "Hot Priest" Scott, and Sofia Boutella, as well as writers and directors like John Carney (Once) and Sharon Horgan (Catastrophe), whose own works feel like brilliant examples of the column's legacy. But while I'm sure the series will be great, I'm particularly excited for people to get the chance to read all of the essays in this collection. Because they were conceived as written pieces, they give access to the interior monologues that shape our experience of love—the infatuations, the anguished "What does that mean?"s, the thoughts you'd never share out loud—in a way you only really can on the page. I also hope that the series will introduce the column to a new audience who doesn't read the NYT or listen to podcasts, but who enjoys love stories, and who will be intrigued that the episodes are based on real experiences. Of course I'm biased, but I think that the book is the perfect place to start—or to get more if you liked what you saw onscreen.
Watch the trailer for the Modern Love series below:
Posted: October 1, 2019