Dave Horowitz Reads His Picture Book, EMERGENCY MONSTER SQUAD, via Zoom (10/24)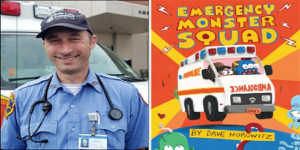 Greenlight Bookstore Virtual Storytime presents Dave Horowitz, author and illustrator of EMERGENCY MONSTER SQUAD (Nancy Paulsen Books), via Zoom on Saturday, October 24 at 11:30 am (ET).
EMERGENCY MONSTER SQUAD chronicles a hilarious day in the life of two EMS workers who drive an "amboolance," rushing to the aid of injured monsters. Meet Sally and Gus–the crackerjack emergency medical services team who come to help when someone is sick or injured. But the someones in their world are a little unearthly–which means they're on the Emergency Monster Squad! Ride along with these everyday heroes as they drive their amboolance to answer the calls of a zombie with chest pains, a fractured skeleton, and a very pregnant kraken mama. It's a hair-raising job, but someone's gotta do it–and you never know what will happen when they crank up their siren and flash those lights!
Dave Horowitz has written and illustrated over a dozen popular books for children, including The Ugly Pumpkin, Humpty Dumpty Climbs Again, Twenty-Six Princesses (and its counterpart, Twenty-Six Pirates), as well as Honeyky Hanukah and the 2008 Sydney Taylor Notable Book Five Little Gefiltes. Dave lives in New York's Hudson Valley. Besides making books for kids, Dave has been a drummer, a rock climbing guide, and a college professor.
!! As a reminder, if you are posting to a personal or other non-PRH account you must include the hashtag #TeamPRH !!
Posted: October 21, 2020