Dave Rubin to Virtually Sign Copies of DON'T BURN THIS BOOK via YouTube Live (4/28)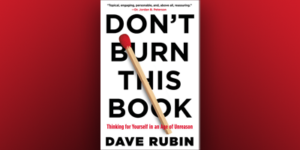 Dave Rubin will sign copies of his new book, DON'T BURN THIS BOOK: Thinking for Yourself in an Age of Unreason (Sentinel), and also take questions, a virtual live signing via YouTube Live on Tuesday, April 28 at 12:30ppm (ET).
Rubin launched his political talk show The Rubin Report in 2015 as a meeting ground for free thinkers who realize that partisan politics is a dead end. He hosts people he both agrees and disagrees with–including those who have been dismissed, deplatformed, and despised–taking on the most controversial issues of our day.
Now, Rubin gives you the tools you need to think for yourself in an age when tribal outrage is the only available alternative. Based on his own story as well as his experiences from the front lines of the free speech wars, DON'T BURN THIS BOOK will empower you to make up your own mind about what you believe on any issue and teach you the fine art of.
!! As a reminder, if you are posting to a personal or other non-PRH account you must include the hashtag #TeamPRH !!
Posted: April 27, 2020