Dave Zimmer, Igloo's Singularly Supportive Editor, Retiring July 1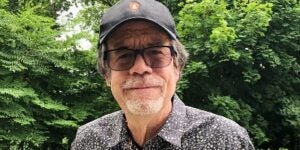 A Note from Claire von Schilling, EVP & Director, Corporate Communications & Social Responsibility: I want to share with you, appropriately in the Igloo Daily Bulletin, that DAVE ZIMMER, our Corporate Communications Manager, who has so devotedly edited our Daily Report these past eight years, will be retiring from Penguin Random House on July 1. He soon will begin a new career relating to music, his second-great lifelong passion, alongside books and baseball, which are also part of his post-PRH plans.
Passion—together with his decades of corporate-writing and years of publishing experience, and his nurturing, knowledgeable appreciation for our publishing programs, and the authors, illustrators, and colleagues who make them possible—has defined Dave's nineteen-year career with Penguin Random House and Penguin. While many of us contribute every day to the Igloo Bulletin's publication, it is Dave, whose editing and writing skills, and whose embracing outreach to our publishing teams and partners,  ensures its news-packed, on-time arrival in our inboxes. Ever on call for us, his self-effacing efforts have kept the company well in the know.
We in Corporate Communications are among the many who will sincerely miss Dave's thoughtfulness and collaboration. He has accomplished so much. He will accomplish more in the future.
All the best from your Corporate Communications colleagues,
Stuart Applebaum, Lindsay Elias, Alex Hill, Maya Livingstone, Stacy Matulewicz, John Morris-Esparza, Christine Stotz, Veronica Valerio, and Claire von Schilling.
Posted: June 27, 2022