David Allen Sibley and Jennifer Ackerman and Their Books via Zoom (8/4)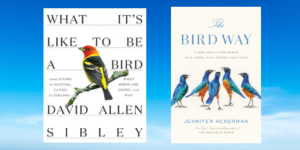 David Allen Sibley, author of, most recently, WHAT IT'S LIKE TO BE A BIRD (Knopf), and Jennifer Ackerman, author of, most recently, THE BIRD WAY (Penguin Press), will be in conversation about birds in a virtual event hosted by Browse About Books via Zoom on Tuesday, August 3, at 5:00 pm (ET).
In addition to WHAT IT'S LIKE TO BE A BIRD, Sibley is the author and illustrator of the series of successful guides to nature that bear his name, including The Sibley Guide to Birds. He has contributed to Smithsonian, Science, The Wilson Journal of Ornithology, Birding, BirdWatching, and North American Birds, and to The New York Times. He is the recipient of the Roger Tory Peterson Award for Lifetime Achievement from the American Birding Association and the Linnaean Society of New York's Eisenmann Medal. He lives and birds in Massachusetts.
Jennifer Ackerman has been writing about science, nature, and human biology for almost three decades. Her most recent books include The Genius of Birds, Sex Sleep Eat Drink Dream: A Day in the Life of Your Body; Ah-Choo: The Uncommon Life of Your Common Cold; Chance in the House of Fate: A Natural History of Heredity; and Notes from the Shore. A contributor to Scientific American, National Geographic, The New York Times, and many other publications, Ackerman is the recipient of a National Endowment for the Arts Literature Fellowship in Nonfiction, a Bunting Fellowship, and a grant from the Alfred P. Sloan Foundation.
!! As a reminder, if you are posting to a personal or other non-PRH account you must include the hashtag #TeamPRH !!
Posted: July 31, 2020