David Bradford and Carole Robin Present Their Book CONNECT via Keplers.org (2/18)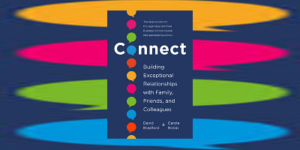 David Bradford and Carole Robin, authors of CONNECT: Building Exceptional Relationships with Family, Friends and Colleagues (Crown), will be featured at a virtual event hosted by the Kepler's Literary Foundation (Menlo Park, CA) via Keplers.org on Thursday, February 18 at 9:00 pm (ET).
Filled with relatable scenarios and research-backed insights, CONNECT is an important resource for anyone hoping to improve existing relationships and build new ones at any stage of life.
In the history of humankind, connecting to others and building strong relationships has never been more complicated. That was true even before a pandemic and global change shifted social rules as never before. In recent decades a complex digital world, our busy modern lives, and competitive professional landscapes left a lot of highly skilled people simply unclear on how to build stronger, more lasting relationships.
David Bradford and Carole Robin taught interpersonal skills to MBA candidates for a combined seventy-five years in their legendary Stanford Graduate School of Business course Interpersonal Dynamics (affectionately known to generations of students as "Touchy-Feely") and have coached and consulted hundreds of executives for decades. In CONNECT, they show readers how to take their relationships from shallow to exceptional by cultivating authenticity, vulnerability, and honesty, while being willing to ask for and offer help, share a commitment to growth, and deal productively with conflict.
!! As a reminder, if you are posting to a personal or other non-PRH account you must include the hashtag #TeamPRH !!
Posted: February 11, 2021