David Fajgenbaum Probes CHASING MY CURE via Crowdcast (4/14)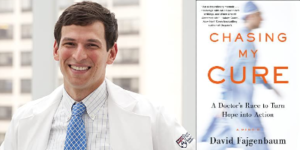 The Free Library of Philadelphia presents a virtual in-conversation event with David Fajgenbaum, author of CHASING MY CURE: A Doctor's Race to Turn Hope Into Action (Ballantine), via Crowdcast on Tuesday, April 14, at 7:30pm (ET).
Fajgenbaum, a former Georgetown quarterback, was nicknamed the Beast in medical school, where he was also known for his unmatched mental stamina. But things changed dramatically when he began suffering from inexplicable fatigue. In a matter of weeks, his organs were failing and he was read his last rites. Doctors were baffled by his condition, which they had yet to even diagnose. Floating in and out of consciousness, Fajgenbaum prayed for a second chance, the equivalent of a dramatic play to send the game into overtime.
When he relapsed while on the only drug in development and realized that the medical community was unlikely to make progress in time to save his life, Fajgenbaum turned his desperate hope for a cure into concrete action: Between hospitalizations he studied his own charts and tested his own blood samples, looking for clues that could unlock a new treatment.
More than five years later and now married to his college sweetheart, Fajgenbaum has seen his hard work pay off: A treatment he identified has induced a tentative remission and his novel approach to collaborative scientific inquiry has become a blueprint for advancing rare disease research. His incredible story demonstrates the potency of hope, and what can happen when the forces of determination, love, family, faith, and serendipity collide.
!!A reminder for PRH employees: If you are posting this article to a personal or other non-PRH account you must include the hashtag #TeamPRH.!!
Posted: April 13, 2020