David Grann's KILLERS OF THE FLOWER MOON Adapted for Young Readers by RHCB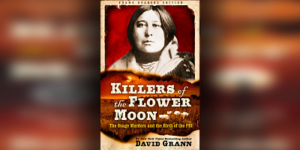 Random House Children's Books is pleased to publish a young readers edition of David Grann's New York Times bestseller and National Book Award Finalist as KILLERS OF THE FLOWER MOON: Adapted for Young Readers. On sale Tuesday, November 16, from Crown Books for Young Readers, the book details the Reign of Terror against the Osage people—one of history's most ruthless and shocking crimes.
In this adaptation of his adult bestseller, Grann revisits his gripping investigation into the shocking crimes against the Osage people in an accessible volume for young readers. The book is a searing indictment of the callousness and prejudice toward Native Americans that allowed the murderers to occur for so long, and is a story not only for adults but for middle-grade readers as they learn about American history and this important moment in time.
In the 1920s, the richest people per capita in the world were members of the Osage Nation in Oklahoma, thanks to the oil that was discovered beneath their land. Then, one by one, the Osage began to die under mysterious circumstances, and anyone who tried to investigate what was going on met the same end.
As the death toll surpassed more than twenty-four Osage, the newly created Bureau of Investigation, which became the FBI, took up the case, one of the organization's first major homicide investigations. An undercover team, including one of the only Native American agents in the bureau, infiltrated the region, struggling to adopt the latest modern techniques of detection. Working with the Osage, they began to expose one of the most chilling conspiracies in American history.
David Grann is a staff writer at The New Yorker and the bestselling author of The Lost City of Z, which was chosen as one of the best books of the year by the New York Times, the Washington Post, and other publications, and has been translated into more than twenty-five languages. He is also the author of The Devil and Sherlock Holmes as well as Killers of the Flower Moon. His work has garnered several honors for outstanding journalism, including a George Polk Award.
Posted: November 16, 2021