David Joy's Appalachian Noir: "There's Not a Story that Can't be Told Within the Shadow of These Mountains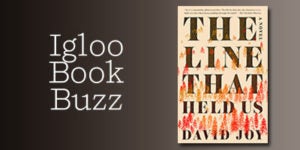 Our new Igloo Book Buzz selection is THE LINE THAT HELD US, published by G. P. Putnam's Sons on August 14, the dazzling third novel of Appalachian noir by Edgar Award nominee David Joy, whose work has drawn comparisons to Cormac McCarthy, Flannery O'Connor, Ron Rash, Daniel Woodrell, Tom Franklin, and Wiley Cash.
The author of the "remarkable" (New York Times Book Review) debut WHERE ALL LIGHT TENDS TO GO, and THE WEIGHT OF THIS WORLD once again takes us to his rural region of Western North Carolina, with a riveting story about an accidental killing and the ensuing retribution that spirals out of control.
Joy reveals, "The story rose out of questioning how far someone is willing to go to protect the ones they love. Toward the end of the book, Dwayne Brewer asks Calvin Hooper, 'For whom are you willing to lay down your life? Outside of that there is nothing.' That's the central question, from the opening page to the last deep breath."
"Above anything else, my work is deeply rooted to place," Joy continues. "I write about Appalachia and the mountains of Western North Carolina, but more specifically all of my stories are set in Jackson County where I live and have lived for half my life. I can't imagine there being a moment in my life where I'm not tied to place. This is where I've lived and this where I'll die. I have absolutely no intention of ever leaving. If my work winds up being a reflection of that, I don't foresee there being any sort of downside. This is that Joycean idea that 'in the particular lies the universal.' This is what Eudora Welty meant by, 'One place understood helps us understand all places better.' There's not a story that can't be told within the shadow of these mountains."
Sara Minnich, Senior Editor, G. P. Putnam's Sons, shares, "THE LINE THAT HELD US is David's third novel and our third together, yet when I read it for the first time I was surprised anew by the beautiful grit of his writing, the depth of his empathy, and his penetrating insight into these broken places and hardscrabble people. David's novels are all set in the small corner of western North Carolina where he lives, and while that environment is very specific, I've always found David's work so special because of how it evokes the commonalities all people share in how we feel and what we strive for."
A SIBA Okra Pick and Book of the Month Club pick for August, THE LINE THAT HELD US has received outstanding early praise, with critics hailing it as "a feat of Appalachian noir" (Charlotte Magazine), "exquisitely written, heart-wrenching, lyrical and lingering" (Milwaukee Journal Sentinel), and "as beautiful and compelling as it is searing" (Booklist starred review), with comparisons from Faulkner (Minneapolis Star Tribune) to Joel and Ethan Coen's Fargo (BookPage). At publication, David will appear on NPR's Weekend Edition Sunday and reviews are already slated in the Associated Press, Los Angeles Times, and Garden & Gun. David also sets out on a 17-city tour, which includes joint events with fellow Putnam authors Ace Atkins, Delia Owens, and J. Todd Scott.
Over the past year, Joy has been gaining increased national recognition as a leading voice coming out of Appalachia and the South. Last May, he published a widely read essay on The Bitter Southerner, which offered an honest but compassionate depiction of Appalachia and its people in the wake of the divisive 2016 Presidential Election. The essay was picked up by the New York Times' "What We're Reading" digest (here & here), calling it "the prettiest thing you will read about 'us and them,' 'class and trash,' and the power that comes from listening," and David discussed the piece on NPR's Weekend Edition Sunday. In April, he published a deeply personal and nuanced essay about gun culture and the Second Amendment in the New York Times Magazine. He was also recently featured in TIME Magazine's American South issue, reflecting on the growing urban/rural divide's effects on subsistence culture and the hunting camp tradition. Clearly, as the kind of hardscrabble places and people he portrays have entered the cultural conversation (with Trump's election, current events including the opioid crisis, and recent bestselling works like Hillbilly Elegy and White Trash), readers want to know and understand these places and people—and "we can ask for no better guide than David Joy" (NYT).
Posted: August 13, 2018