Deanna Kizis and Sam Boughton to Share PLEASE DON'T READ THIS BOOK via Crowdcast (1/16)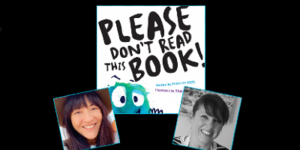 Vroman's Bookstore presents a virtual storytime, conversation and Q&A with PLEASE DON'T READ THIS BOOK (Philomel) author Deanna Kizis and illustrator Sam Boughton via Crowdcast on Saturday, January 16 at 2:00 pm (ET).
This laugh-out-loud book begs readers to break the rules, silliness and hilarity reign supreme! Perfect for fans of The Book with No Pictures. Join along for zany antics, silly sounds, and endless fun in this breaks-the-fourth-wall book that will have readers coming back time and time again–regardless of what the title says.
Deanna Kizis is very silly and would definitely read a book that said she shouldn't. Her favorite things include pretending her daughter's toothbrush can talk, dipping warm chocolate cookies in cold milk, and throwing dance parties with the dog. Deanna is so silly, in fact, that she once went to the grocery story wearing two different shoes by mistake, and she always makes up silly songs that her kid thinks are kinda weird — but funny!
Sam Boughton is an award-winning British artist and illustrator with degrees in illustration from Bristol UWE and the Cambridge School of Art. She is the author/illustrator of Hello, Dinosaurs! and The Extraordinary Gardener. Sam lives in Teignmouth, UK.
!! As a reminder, if you are posting to a personal or other non-PRH account you must include the hashtag #TeamPRH !!
Posted: January 13, 2021