Debuting Today: Netflix Film SPENSER CONFIDENTIAL Based on Ace Atkins' Bestseller - Watch the Trailer!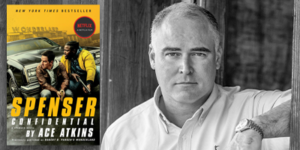 Ace Atkins' New York Times bestselling thriller, SPENSER CONFIDENTIAL, previously published by Putnam as ROBERT B. PARKER'S WONDERLAND, has been adapted into a film, releasing on Netflix today, March 6. Mark Wahlberg stars as Spenser, an ex-cop sent to prison after being framed, with Alan Arkin playing alongside him as Henry Cimoli, Spenser's longtime friend and old boxing coach, who needs his help. The film also stars Winston Duke as Hawk and Post Malone as Spenser's prison inmate and nemesis.
"While I wasn't involved in the production, I did spend some time with Mark Wahlberg and director Peter Berg and am looking forward to seeing their vision of Spenser," says Atkins.
Sara Minnich, editor of the book and Senior Editor at Putnam, says, "It's so exciting to see Robert B. Parker's iconic hero Spenser on Netflix, and played by Mark Wahlberg no less! I'm delighted to see how they bring to life this classic character for a new generation, and put a unique spin on Ace Atkins' fantastic novel ROBERT B. PARKER'S WONDERLAND."
Watch the trailer:
Ace Atkins photo by Joe Worthem
Posted: March 6, 2020