Del Rey Launches WEBTOON Publishing Program With LORE OLYMPUS: Volume One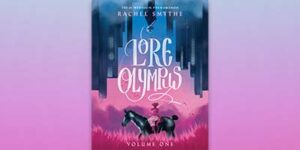 Today, November 2, the Random House Publishing Group is releasing LORE OLYMPUS: Volume One (Del Rey) in partnership with Eisner-nominated creator Rachel Smythe, and WEBTOON, the popular online webcomic platform with more than 55 million monthly active users. 
"Lore Olympus has already made a powerful connection with readers through Rachel's webcomic," said Elizabeth Schaefer, Creative Director of Licensed Publishing at Del Rey. "Now, the series is positioned to reach an even wider audience in print, drawing in new readers with its stunning artwork and universal themes of power, destiny, and love."
Lore Olympus is a stylish and contemporary reimagining of one of the best-known stories in Greek mythology—the Taking of Persephone. The weekly #1 WEBTOON Original series currently has 5.3 million subscribers and brings mythology into the modern age in a sharply perceptive and romantic retelling. In addition to Eisner and Ringo nominations, Lore Olympus won a Harvey Award for Best Digital Book of the Year earlier this year.
LORE OLYMPUS: Volume One is a full-color graphic novel adaption of Smythe's original webcomic, collecting episodes #1–25 and featuring a brand-new exclusive short story.
Sarah Peed, Senior Editor at Del Rey, said: "I'm so thrilled to bring the wildly popular Lore Olympus to print. This Hades and Persephone retelling is not only charming, stylish, and addictive, but it also addresses the problematic aspects of the original myth in a meaningful and empathetic way. It is a tale that is relevant, compassionate, and deeply human."
Rachel Smythe will discuss the launch of her graphic novel adaptation alongside bestselling author Jennifer L. Armentrout at a virtual event hosted by The Strand (New York, NY) tonight, Tuesday, November 2 at 6:00 pm (ET).
"I can't wait to see longtime webcomic readers celebrate this moment with Rachel tonight and to watch new readers discover Lore Olympus for the first time," said Jordan Pace, Associate Publicist at Del Rey. "Lore Olympus is a finely woven story equally interested in exploring the complexity of trauma as it is about celebrating the magic of falling in love. To hold those truths equally is no small feat. Rachel's world holds anyone who enters in thrall."
The marketing campaign for Lore Olympus included a wide-scale preorder campaign featuring an exclusive "Grumpy Hades" enamel pin for early shoppers at participating independent bookstores and comic shops. Nearly 180 stores nationwide participated in this bonus offering.
More information about the publication can be found at LoreOlympusBooks.com, the destination website for the Lore Olympus graphic novel series (created using PRH's Splash tool!)
"Working on the campaign for Lore Olympus has been a dream come true," said Ashleigh Heaton, Marketing Manager at Del Rey. "As a longtime follower of the WEBTOON Original series, I know fans will absolutely cherish this beautiful graphic novel adaptation for many years to come. And I can't wait for new readers to discover this version of Hades and Persephone."
The Lore Olympus publishing program will continue with LORE OLYMPUS: Volume Two by Rachel Smythe, to be published by Del Rey on July 5, 2022, which will collect episodes #26-49.
Posted: November 1, 2021