Del Rey Publishes New Star Wars Book, Partners With Out of Print for Limited Editions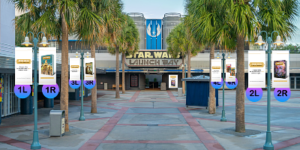 Beginning with this week's Del Rey publication of STAR WARS: Light of the Jedi (The High Republic), Lucasfilm is launching an epic new era of Star Wars storytelling that will be explored through multiple voices in adult and young adult novels, children's books, and comics from a variety of publishers, including Del Rey, Disney Lucasfilm Press, IDW Publishing, and Marvel.
Star Wars: The High Republic is set in an era when the Galactic Republic and the Jedi Order are at their zenith, about 200 years before the events of Star Wars: The Phantom Menace. This period on the Star Wars timeline will not overlap any of the filmed features or series currently planned for production, giving creators and partners a vast amount of room to tell Star Wars stories with new adventures and original characters.
In Light of the Jedi, the first book in this cross-publisher franchise, the galaxy is in a golden age. Intrepid hyperspace scouts expand the reach of the Republic to the furthest stars, worlds flourish under the benevolent leadership of the Senate, and peace reigns, enforced by the wisdom and strength of the renowned order of Force users known as the Jedi. With the Jedi at the height of their power, the free citizens of the galaxy are confident in their ability to weather any storm. But the even brightest light can cast a shadow, and some storms defy any preparation.
Available January 5 in all formats, Del Rey has also partnered with Out of Print to release special, signed limited editions of the book, featuring exclusive cover art designed by illustrator Jama Jurabaev and bundled with a pair of Star Wars: The High Republic-inspired socks and a matching enamel pin.
To watch the "Star Wars: The High Republic" trailer, click on the video window below:

Posted: January 5, 2021