Delacorte Press Acquires SNOWGLOBE, An Innovative Dystopian Thriller Originally Released in South Korea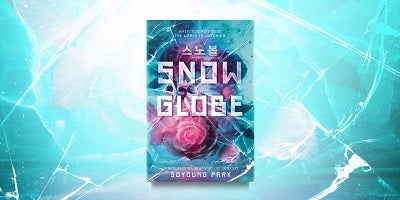 Delacorte Press has acquired SNOWGLOBE by Soyoung Park, the first book in a powerful young adult dystopian duology, as announced last week by Beverly Horowitz, SVP & Publisher, Delacorte Press. Originally published in South Korea in 2020 by Changbi Publishers, the novel has been translated into English by Joungmin Lee Comfort, introducing a new readership to the cutting-edge commentary on climate change, socioeconomic inequality, and personal identity. The book will published early 2024.
Krista Marino, VP & Senior Executive Editor, Delacorte Press, and the book's U.S. editor acquired World English rights from Sue Park at Barbara J. Zitwer Agency. SNOWGLOBE has been optioned for film by CJ Entertainment, the producers of Parasite and Snowpiercer. The project has been greenlit, and production is underway. 
SNOWGLOBE is a powerful and layered thrill ride containing a myriad of plot twists and a shocking ending that will keep readers eagerly awaiting its sequel. 
Set in a frozen world, only the residents of Snowglobe have it all: fame, fortune, and, above all, safety from the bitter cold. Outside the domed city, citizens must face the –50-degree Fahrenheit temperatures to produce the energy that Snowglobe needs to run. Their only solace comes in the form of television programming developed from the 24/7 filming of those who live in Snowglobe. When Snowglobe's biggest star and newly minted weather announcer, Haeri, is found dead, look-alike Chobahm must take her place, getting the opportunity of a lifetime to join the residents inside. But she soon discovers that the society she's idolized is hiding a frozen and dangerous heart. 
The popularity of Korean culture has surged globally in recent years across music, tv and film including with the five-time Grammy-nominated pop sensation BTS, the 2019 Oscar-winning thriller Parasite, and Netflix's hit dystopian television show Squid Game, which became the platform's mostwatched show ever at the time of release. This cultural phenomenon is known as Hallyu, or the Korean Wave, in which the world is quickly discovering the incredible talent South Korea has to offer, and Soyoung Park is no exception. The original publication of SNOWGLOBE in South Korea received the Changbi X Kakaopage Young Adult Novel Award and the Original Story Award. 
"As I read Snowglobe for the first time, I was shocked by how a debut author was able to take familiar tropes and create a story that was completely original and transportive," says Marino. "Again and again, I was surprised and delighted by its twists and turns, and impressed by Soyoung Park's astute commentary on consumerism, identity, and what our future holds. I haven't read a novel as unique and entertaining in years. I see this as not only having universal appeal, but dare I say it, becoming a critical favorite, and I am thrilled to be publishing it for English readers." 
SNOWGLOBE will be released simultaneously in the UK by Penguin Random House UK and will also be available as an audiobook from Listening Library.
Soyoung Park majored in information and communication at university and has worked as a reporter. She is a winner of the Original Story Award and the Changbi X Kakaopage Young Adult Novel Award. She's the author of the Snowglobe duology. 
Joungmin Lee Comfort is a Korean–English translator based in the United States. Her translations have appeared in academic journals and Clarkesworld Magazine. Her recent publication of Kim Bo-young's On the Origin of Species and Other Stories (co-translated with Sora Kim-Russell) was longlisted for the National Book Award for translated literature. 
Posted: July 5, 2023