Delacorte Press and Listening Library to Publish Brandon Sanderson's Skyward Flight Novellas This Fall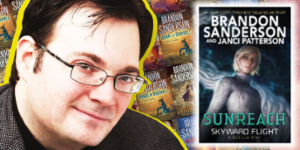 Delacorte Press, an imprint of Random House Children's Books, and Listening Library, an imprint of Penguin Random House Audio, in collaboration with Mainframe LLC, will publish three novellas by Brandon Sanderson and Janci Patterson this Fall: SUNREACH (on sale September 28), REDAWN (on sale October 26), and EVERSHORE (on sale December 28). Available simultaneously as ebooks and audiobooks, these new novellas are collectively known as the Skyward Flight series and expand the bestselling Skyward series, which currently consists of two full-length novels, Skyward (November 2018) and Starsight (November 2019). CYTONIC, the third novel, will be released in hardcover on November 23.
With millions of devoted fans throughout the world and a long list of bestselling novels and series, Brandon Sanderson has established himself as one of today's most esteemed fantasy writers. With the Skyward series, Sanderson shares an epic saga about Spensa, a girl who travels beyond the stars to save the world she loves from destruction. In SUNREACH, REDAWN, and EVERSHORE, fans of the series will get a deeper look into the stories of other members of Skyward Flight—FM, Alanik, and Jorgen. Related to the audiobook releases, Penguin Random House Audio is working in collaboration with Mainframe LLC, a spoken word entertainment and production company founded by Sanderson and Max Epstein to tell compelling stories in audio formats. Suzy Jackson will narrate audiobooks for the first two novellas; a narrator for EVERSHORE will be announced.
Said Sanderson, "Janci, Max, and I are extremely excited to be working with Penguin Random House to release the Skyward Flight novellas. We've spent the last year working on these original stories and exploring these three new points of view. I'm thrilled to finally be able to share them with readers."
"It's an honor to collaborate with Brandon in his incredible Cytoverse. I love the Skyward Flight characters and was thrilled at the opportunity to expand their adventures. I hope fans of Skyward will love these stories as much as I do," Patterson said.
Influenced in part by the Marvel Cinematic Universe, Sanderson has built an immersive world within the Skyward series, with characters and events that are interconnected and expand upon each other.
Said the author's longtime Delacorte Press editor Krista Marino "Brandon is an amazing worldbuilder, and these novellas are simply more evidence of how much thought he puts into the stories he writes. The world of the Skyward series is vast, and we—alongside Mainframe and our colleagues at Penguin Random House Audio—can't wait to share new and different points of view within it."
Beverly Horowitz, Senior VP & Publisher, and Krista Marino, VP & Senior Executive Editor, Delacorte Press, acquired North American and open market rights; and Rebecca Waugh, Editorial Director, and Emily Parliman, Senior Editor, Listening Library, acquired North American and open market audio rights for the novellas from Eddie Schneider and Joshua Bilmes at JABberwocky Literary Agency, Inc.
Posted: September 27, 2021