Delacorte Press to Publish Five Survive by New York Times Bestseller Holly Jackson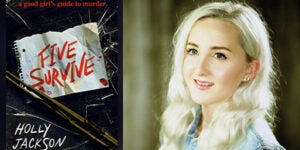 Delacorte Press, an imprint of Random House Children's Books, will publish FIVE SURVIVE, the next novel from international sensation Holly Jackson, as announced by Beverly Horowitz, Delacorte Press Senior Vice President & Publisher. Kelsey Horton, Senior Editor, will edit the novel and acquired World rights from Sam Copeland at Rodgers, Coleridge & White LTD. The book will be published on November 29, 2022, with a first printing of 500,000 copies.
Since launching in 2020, the A Good Girl's Guide to Murder series has been a mainstay on the New York Times bestseller list, having sold over 2 million copies in North America. #1 New York Times bestselling author Natasha Preston has called the series "the perfect nail-biting mystery," while Business Insider has praised it, saying, "If you love true crime, murder mysteries, and unstoppable young women, this is the perfect easy-read thriller to grab." Jackson's books are also among the most popular on TikTok, with over 40 million views on hashtags relating to the series and author.
Fans of Holly Jackson have been clamoring for her next novel, and she has delivered another commercial thriller featuring a compelling cast of characters that will have readers on the edge of their seats until the very last page. With FIVE SURVIVE, fans of Holly Jackson will find a new kind of thriller, joining a small group of friends on a road trip that turns deadly.
Red Kenny is on a road trip for spring break with five friends: her best friend and her older brother, his perfect girlfriend, a friend from school, and the guy Red wishes was more than a friend. But they won't make it to their destination. When their RV breaks down in the middle of nowhere with no cell service, they realize this is no accident. They have been trapped out there in the dark, by someone who wants them dead. With eight hours until dawn, the six friends must escape, or figure out which one of them is the target. But is there a liar among them? Buried secrets will be brought to light, and tensions inside the RV will reach deadly levels. Not all of them will survive the night. . . . Eight hours. Six friends. Five survive.
Of the new release, Holly Jackson says, "I am so excited to finally be able to talk about Five Survive. This book certainly took me on a ride—pun fully intended. The blank page of chapter one was even more intimidating this time around; gone was the safety net of Pip and my A Good Girl's Guide to Murder (AGGGTM) series. I knew the book was going to be a crime thriller, but I wanted to make it a different kind of thriller, to stand apart from the trilogy I had just finished. I have always wanted to write a book set in 'real time,' limited to one location. And that was the seed that Five Survive grew from: a full thriller with twists and turns, set in just eight hours, unfolding in the same time it takes to read the book. It was the perfect challenge for my first book post-AGGGTM: a relentless pace and six characters stuck in a claustrophobic setting. Even though it involved meticulous planning, I loved writing this book. It's different, but I hope readers will find all the things they loved about AGGGTM in this book. Buckle up—it's going to be an intense eight hours, and not everyone will survive the night!"
Says Horton, "Holly has a way of tapping into our darkest fears and creating incredibly twisty, addictive thrillers. A Good Girl's Guide to Murder starts with a murder, and Five Survive ends with one—both are suspenseful in their own ways, but fans of Holly's first series who come to Five Survive will love her signature plot twists as well as the ticking-time-bomb element that makes this such a fast-paced read. It's really a survival story and thriller in one. I think readers will be terrified as they try to figure out why this getaway has turned deadly and as characters begin to unravel. Speaking of characters, I'm sure readers will miss Pip and Ravi, but there's a new cast to love and root for, and others you won't trust. The storytelling is brilliant."
The book is available for pre-order now.
Follow the conversation about FIVE SURVIVE on social media via #FiveSurvive.
Posted: August 4, 2022