Delacorte Press to Publish New Holly Jackson Thriller THE REAPPEARANCE OF RACHEL PRICE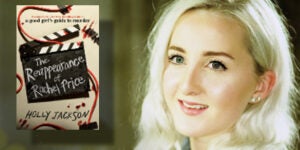 Yesterday, Delacorte Press, an imprint of Random House Children's Books, announced that it will publish THE REAPPEARANCE OF RACHEL PRICE by #1 New York Times bestselling author Holly Jackson, marking her return to true-crime angled thrillers. This is the first of three new novels coming from Holly Jackson, and it will release on April 2, 2024 with a first printing of 500,000.
Since publishing her debut, A Good Girl's Guide to Murder, in 2020, Holly Jackson has been a mainstay on the New York Times bestseller list with both her debut series and her 2022 standalone, Five Survive. Jackson has sold over 3.8 million books in North America and has an upcoming BBC adaptation of the A Good Girl's Guide to Murder series starring Emma Myers from Netflix's Wednesday that is currently filming in England.
With THE REAPPEARANCE OF RACHEL PRICE, Jackson pens a new mystery about a girl determined to uncover the shocking truth about her mother's disappearance while filming a documentary on the unsolved case sixteen years later.
Lights. Cameras. Lies. Eighteen-year-old Bel has lived her whole life in the shadow of her mom's mysterious disappearance. Sixteen years ago, Rachel Price vanished, and young Bel was the only witness, but she has no memory of it. Rachel is gone, long presumed dead, and Bel wishes everyone would just move on. But the case is dragged up from the past when the Price family agrees to participate in a true-crime documentary. Bel can't wait for filming to end, for life to go back to normal. And then the impossible happens. Rachel Price reappears, and life will never be normal again.
Rachel has an unbelievable story about what happened to her. Unbelievable, because Bel isn't sure it's real. If Rachel is lying, then where has she been all this time? And—could she be dangerous? With the cameras rolling, Bel must uncover the truth about her mother, and find out why Rachel Price really came back from the dead. . . .
Says Jackson, "I have never been so excited to announce a new book as I am for The Reappearance of Rachel Price. Writing this book utterly wrecked me, and that's why I think it might be my best yet. With everything readers have come to expect from me: twists that will make it embarrassing to read in public, a mystery that will have you questioning just how unhinged I am, and a protagonist with a three-letter name (I don't know why this keeps happening!). Get ready, because Rachel Price is about to come back from the dead, and just like her daughter—Bel—you're going to have to question everything if you want to uncover the truth."
This is the striking story about one girl grappling in the shadows of her mother's tragedy—and how trauma has a way of reappearing in the most unexpected ways. Fans of Holly Jackson will celebrate her return to the true crime–fueled thriller genre that helped cement her as one of the masters of YA mystery today.
Jackson's longtime U.S. editor, Kelsey Horton, Sr. Editor, Delacorte Press, says, "The story is as subversive as it is suspenseful—it starts out reading like a true-crime documentary about an unsolved murder, but this is not a book about a woman disappearing, it's about her reappearing, almost as if she's returned from the dead. What ensues is an extremely gripping, haunting, and thrilling page-turner that will entertain readers with jaw-dropping moments, but it is also the kind of book that sticks with you long after you've read it. It's about deception—the way people and memories can both lie to you. Holly is known for her twists, and this novel won't disappoint. You can feel the tension from the first page, and the ending is so utterly unexpected. It's an addictive read."
Posted: August 24, 2023