Delia Owens's International Bestseller 'CRAWDADS' to be Published in Spanish by Vintage Español in October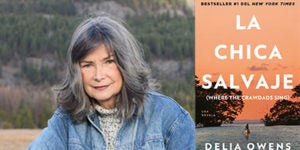 Delia Owens's blockbuster bestseller, WHERE THE CRAWDADS SING, will be published in Spanish by Vintage Español in October, marking the first time the book will be available in a Spanish language edition in the U.S. The Spanish language edition, titled LA CHICA SALVAJE, will be published simultaneously in trade paperback and ebook from Vintage Español, and as an audiobook by Penguin Random House Audio, on October 29. All three editions have been adapted to Latin American Spanish. Vintage Español Publishing Director Cristóbal Pera acquired U.S. and Canadian rights from El Ático de los Libros in Barcelona.
WHERE THE CRAWDADS SING was originally published in hardcover on August 14, 2018, and it has sold 3.7 million copies in the US across all formats – print, digital, and audio – and has spent fifty-two weeks on the New York Times bestseller list, twenty-eight of them at number one.
"I am so thrilled to be working with Vintage Español on the Spanish-language edition of WHERE THE CRAWDADS SING," said Owens, "which will introduce an entirely new group of readers to Kya's story."
"Our aim at Vintage Español is to publish books that enrich the lives of Latino readers," said Pera, "and allow them to experience bestselling literature in their own language. Delia Owens's book has become a global phenomenon, and we are thrilled to finally bring it to a Spanish readership here in the U.S."
Posted: September 10, 2019