Denise Kiernan to Celebrate the Launch of WE GATHER TOGETHER via Zoom (11/18)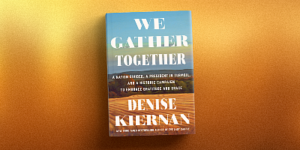 Denise Kiernan, author of WE GATHER TOGETHER (Dutton), will celebrate the launch of her new book at a virtual event hosted by Magic City Books via Zoom on Wednesday, November 18 at 8:00 pm (ET).
In WE GATHER TOGETHER, Kiernan takes a look at American history through the story of giving thanks. Spanning centuries, her book is anchored amid the strife of the Civil War, and driven by the fascinating story of Sarah Josepha Hale, a widowed mother with no formal schooling who became one of the 19th century's most influential tastemakers and who campaigned for decades to make real an annual day of thanks. The man who finally granted her wish about a national "thanksgiving" was Abraham Lincoln, the president of the war-torn nation in which Hale would never have the right to vote.
Illuminating, wildly discussable, part myth-busting, part call to action, the narrative is full of unexpected delights and uneasy truths. The stories of indigenous peoples, immigrant communities, women's rights activists, abolitionists, and more, will inspire readers to rethink and reclaim what it means to give thanks in this day and age. The book's message of gratitude—especially when embraced during the hardest of times—makes it one to read and share, over and over, at any time of year.
Denise Kiernan is an author, journalist and producer who has worked as a writer for more than 20 years. Her last two books—The Last Castle and The Girls of Atomic City—were both instant New York Times bestsellers in both hardcover and paperback. The Last Castle was also a Wall Street Journal bestseller, a finalist for the 2018 Thomas Wolfe Memorial Literary Award, and a finalist for the Southern Book Prize. The Girls of Atomic City was also a Los Angeles Times and NPR bestseller, named one of Amazon's "Top 100 Best Books of 2013," and has been published in multiple languages. Kiernan has been a featured guest on many radio and television shows, including NPR's "Weekend Edition," PBS NewsHour, MSNBC's Morning Joe and The Daily Show with Jon Stewart.
!! As a reminder, if you are posting to a personal or other non-PRH account you must include the hashtag #TeamPRH !!
Posted: November 16, 2020