Denise Williams and Her Editor Kerry Donovan Featured on BuzzBooks Romance Panel via Zoom (7/22)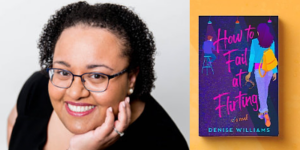 A BuzzBooks Romance Panel hosted by Publishers Lunch will feature Denise Williams, author of HOW TO FAIL AT FLIRTING (Berkley) and her editor Kerry Donovan, plus authors Vanessa Riley, Melissa Ferguson and Brenda Jackson, via Zoom on Wednesday, July 22 at 6:00 pm (ET)
One daring to-do list and a crash course in flirtation turn a Type A overachiever's world upside down in HOW TO FAIL AT FLIRTING.
Denise Williams wrote her first book in the 2nd grade. I Hate You and its sequel, I Still Hate You, featured a tough, funny heroine, a quirky hero, witty banter, and a dragon. Minus the dragons, these are still the books she likes to write. After penning those early works, she finished second grade and eventually earned a PhD in education, going on to work in higher education. After growing up a military brat around the world and across the country, Denise now lives in Des Moines, Iowa with her husband, son, and two ornery shih-tzus who think they own the house.
!! As a reminder, if you are posting to a personal or other non-PRH account you must include the hashtag #TeamPRH !!
Posted: July 21, 2020