Denise Williams and Sarah Smith to Discuss Their New Romance Novels via Zoom (11/6)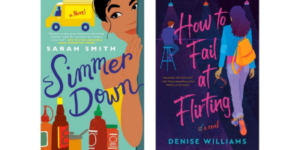 Denise Williams, author HOW TO FAIL AT FLIRTING (Berkley), and Sarah Smith, author of SIMMER DOWN (Berkley), will participate in a Romance Writers in Conversation virtual event hosted by Roundabout Books via Zoom on Friday, November 6 at 9:00 pm (ET).
Williams' HOW TO FAIL AT FLIRTING is about how one daring to-do list and a crash course in flirtation turn a Type A overachiever's world upside down. Smith's SIMMER DOWN, a PopSugar Must-Read for October, is a rollicking rom-com, in which two is the perfect number of cooks in the kitchen.
Denise Williams wrote her first book in the 2nd grade. I Hate You and its sequel, I Still Hate You, featured a tough, funny heroine, a quirky hero, witty banter, and a dragon. Minus the dragons, these are still the books she likes to write. After penning those early works, she finished second grade and eventually earned a PhD in education, going on to work in higher education. After growing up a military brat around the world and across the country, Denise now lives in Des Moines, Iowa with her husband, son, and two shih-tzus who think they own the house.
Sarah Smith is a copywriter turned author who wants to make the world a lovelier place, one kissing story at a time. Her love of romance began when she was eight and she discovered her auntie's stash of romance novels. She's been hooked ever since. When she's not writing, you can find her hiking, eating chocolate, and perfecting her lumpia recipe. She lives in Bend, Oregon, with her husband and cat, Salem.
!! As a reminder, if you are posting to a personal or other non-PRH account you must include the hashtag #TeamPRH !!
Posted: November 4, 2020