Designs by Penguin's Buckley, Pantheon's Huang Among NYTBR's Best Book Covers of '21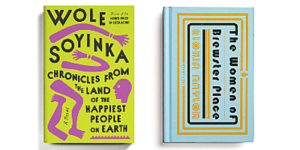 New York Times Book Review Art Director Matt Dorfman selected "The 12 Best Book Covers of 2021," including Gloria Naylor's THE WOMEN OF BREWSTER PLACE (Penguin Classics), designed by Paul Buckley, SVP & Executive Creative Director, Penguin Publishing Group, and Wole Soyinka's CHRONICLES FROM THE LAND OF THE HAPPIEST PEOPLE ON EARTH (Pantheon) by Linda Huang, Associate Director, Art/Design, Knopf Doubleday.
Mr. Dorfman commented, "I spent more time browsing in actual bookstores in 2021 than in any year prior, for no reason other than that I could … In their natural habitat, on the shelf or on a bookstore table, these covers called to be held and explored even more than the other appealing possibilities stacked nearby. They radiated mystery and devotion to their subjects, and I was grateful just to see them in a physical space, to be standing in front of books again — well apart from the detached confines of a screen."
To view all 12 of the NYTBR's Best Book Covers of 2021, click here.
Posted: January 3, 2022