Discuss Penguin Worlds' New Virtual Book Club Pick, Hank Green's AN ABSOLUTELY REMARKABLE THING, via Crowdcast (6/17)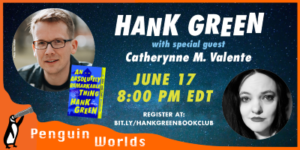 Penguin Worlds is thrilled to announce its next virtual book club pick: AN ABSOLUTELY REMARKABLE THING (Dutton) by #1 New York Times bestselling author Hank Green. In anticipation of his upcoming follow-up novel A Beautifully Foolish Endeavor, on-sale from Dutton on July 7, Hank will be discussing his debut with fellow New York Times bestselling author Catherynne M. Valente via Zoom on Wednesday, June 17 at 8:00pm (ET).
AN ABSOLUTELY REMARKABLE THING grapples with big themes, including how the social internet is changing fame, rhetoric, and radicalization; how our culture deals with fear and uncertainty; and how vilification and adoration spring for the same dehumanization that follows a life in the public eye.
Hank Green is also the CEO of Complexly, a production company that creates educational content, including Crash Course and SciShow, prompting The Washington Post to name him "one of America's most popular science teachers." Complexly's videos have been viewed more than two billion times on YouTube. Hank and his brother, John, are also raising money to dramatically and systematically improve maternal health care in Sierra Leone, where, if trends continue, one in seventeen women will die in childbirth.
Valente is the New York Times bestselling author of dozens of works of science fiction and fantasy including Space Opera, The Refrigerator Monologues, and the Fairyland series. She has won or been nominated for every award in her field. She lives on an island off the coast of Maine with her partner, her son, and several other mischievous beasts.
!! As a reminder, if you are posting to a personal or other non-PRH account you must include the hashtag #TeamPRH !!
Posted: June 16, 2020