Discuss the One World Ideas x Action Book Club Pick via Zoom (6/25)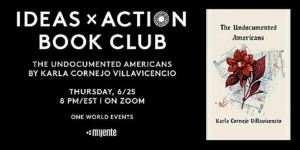 One World's mission has always been to find books for readers who want to rethink the past, understand the present, and imagine new futures. One World Ideas x Action Book Club asks readers to reflect on how we can transform the spirit and ideals of these texts into actionable change in the real world.
The first book club event will feature a virtual discussion between Elizabeth Méndez Berry, One World vice president and executive editor; Marisa Franco, Mijente co-founder and director; and Sofia Campos, who is Mijente's director of recruitment and also a veteran of the immigrant youth movement. Together they will talk about why Karla Cornejo Villavicencio's THE UNDOCUMENTED AMERICANS is a crucial book for our current moment, via Zoom on Thursday, June 25 at 8:00pm (ET).
Looking beyond the flashpoints of the border or the activism of the DREAMers, The Undocumented Americans explores the lives of the undocumented—the singular, effervescent characters across the nation who are often reduced in the media to political pawns or nameless laborers. The stories Cornejo Villavicencio tells are not deferential or naively inspirational but show the love, magic, heartbreak, insanity, and vulgarity that infuse the day-to-day lives of her subjects. Mijente is a new political home for Latinx/Chicanx people that runs campaigns to prevent deportations, to challenge problematic media depictions of Latinx communities, and to build political and cultural power.
One World welcomes those who have read the book and those who haven't (which, given everything happening at the moment, is understandable) for a discussion that will dive into the text and also connect it to the broader world, through the insights of the Mijente team. For anyone who has not had the time to finish THE UNDOCUMENTED AMERICANS, it is recommended that you watch One World's Ideas x Action event with Karla Cornejo Villavicencio, or listening to Karla's This American Life interview.
!! As a reminder, if you are a PRH employee posting to a personal or other non-PRH account, you must include the hashtag #TeamPRH !! 
Posted: June 24, 2020