DJ Khaled Book Announcement Lights Up Media Outlets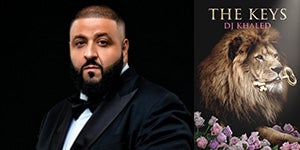 When Crown Archetype announced it will publish THE KEYS, a new book by hip-hop producer and social media star DJ Khaled, on November 22, USA Today, Rolling Stone and other major media outlets got excited. USA Today trumpeted, ""Major key alert! DJ Khaled is publishing a book" and Rolling Stone ran this headline: "DJ Khaled Reveals Personal Philosophy for Success in New Book. Hip-hop producer's THE KEYS includes life stories and tips such as 'don't drive your jet ski in the dark.'"
DJ Khaled posted on his Instagram and Twitter pages:
FAN LUV !! New book alert ! #THEKEYS #BOOK Pre order nowhttps://t.co/4Lhv6E5Ae0 #THEKEYS #NOV22 pic.twitter.com/k7g9YzVSPj

— DJ KHALED (@djkhaled) September 29, 2016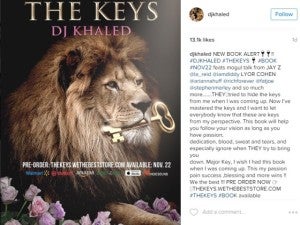 A major force in the music industry—mogul, executive, mega-producer, and recording artist— DJ Khaled has amassed millions of followers devoted to his inspirational, motivational, and often whimsical quotes on achieving success in life.  In his ten-second snap chat self-help sermons, he refers to his pieces of uniquely phrased wisdom as "keys," using the key emoji to signify their importance.
Written in the upbeat and positive tone for which he is known, THE KEYS will offer Khaled's philosophy for success, featuring stories from his own life as he reveals all of the major keys. Khaled will also discuss the meaning behind some of his famous catchphrases, which have become part of the cultural lexicon despite their enigmatic nature, including "another one," "securing the bag," "special cloth alert," "bless up," and more. And throughout the book will be "Mogul Talk" sidebars, featuring insight gleaned from famous friends.
Posted: October 5, 2016