DK Eyewitness Travel Designers Unveil "Our Love Letter to Japan"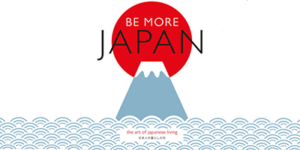 Traveling to Japan? Interested in the culture? BE MORE JAPAN: The Art of Japanese Living, published on July 30 by DK Eyewitness Travel, is a celebration of all things Japanese – from the country's time-honored ancient traditions to its unique and influential modern culture. Blending both travel information and cultural insights into a single book, BE MORE JAPAN helps readers understand and experience the best of Japan, both at home and abroad.
In this "Behind the Design of Our Books" Igloo Interview, Bess Daly and Tania Gomes, Senior Designers from the DK Eyewitness Travel team, open windows into the format and the experience of designing BE MORE JAPAN.
How would you describe the format of BE MORE JAPAN, and what makes it so unique and special?
It's a compact and kawaii (cute), hardcover format. The perfect gift size, worthy of taking pride of place right at the top of your coffee table book stack (not that we're biased). It may be small in build but it is bursting at the seams with inspiration, not only for your future trips to Japan, but for ways to bring elements of Japanese culture into your life and where to experience it throughout the world. This book has been such a passion project for everyone that has worked on it. It really is our love letter to Japan.
What was involved in the process of designing the interior spreads, and which one was your favorite?
From the very beginning, BE MORE JAPAN was a hugely collaborative project. Staring at entirely blank pages (yikes), with a loose editorial concept really allowed us to flex our creative muscles. We had moodboards and layouts coming out of our eyeballs!!! It was many hours of planning and group discussions with editorial that let us, as designers, work out where we wanted to go.
Simply put, we love working together and find that our ideas naturally bounce off one another, catapulting into cohesive design.
It's hard to choose just one spread as a favorite! The chapter openers started off as an initial rough concept to be outsourced, but then everyone loved them so we developed and perfected them. We also have such a soft spot for the season spreads right at the front of the book; traditionally the Japanese calendar had 24 seasons, we learnt that from BE MORE JAPAN. But we both agree that the map spreads, despite being the most challenging and arduous spreads of the whole book, are by far our favorites. From initial map outlines given to us by our amazing cartographers on day one of the project (thousands of iterations in between) to the night before the project went to print when we had a light bulb moment and decided to change the entire look of all the map spreads (our Art Director was stoked to read that email), they are the spreads we are most proud of. It was a rollercoaster of emotions but we adore them.
Who do you think will value and love this book the most and why?
Anyone with an interest in Japan and Japanese culture. Perhaps you've always wanted to visit but didn't know what to expect. Even if you just simply love food, nature, robots, gadgets, fashion, art, design, theatre, music, sport, health or mindfulness then this is the book for you.
Japan is such a unique and exciting country, as rich in culture as it is in quirks. It really is a wondrous land and BE MORE JAPAN is the perfect place to start your Japanese adventure.
Posted: August 1, 2019