DK Launches New Travel Podcast "Where to Go"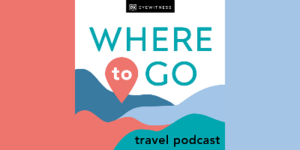 DK Eyewitness has launched a new travel podcast, "Where to Go" – produced for today's travelers, for a new era where restrictions and precautions are ever present. The hosts, James Atkinson and Lucy Richards, don't shy away from the impact COVID-19 has had on our vacation plans and openly discuss the effect of the pandemic on the world's favorite destinations. They also share insights into what travel might be like in 2021.
Each new episode will celebrate a specific destination and the hosts will be joined by experts who have all chosen to call that place home. The guests will reveal hidden gems, reactions to cities, and sights that are not to be missed.
Georgina Dee, Publishing Director, DK Eyewitness, says, "We know how much of a difficult time this has been for travelers, and how uncertain many are about when or where they will visit next. So this new podcast is a real celebration of our favorite destinations and what makes them so special, alongside an honest and helpful account of how COVID has impacted them."
In Episode One, James and Lucy are joined by Toni DeBella, an American travel writer who fell in love with Italy and never looked back. They discuss the initial shock of COVID-19, how the country is now starting to recover and open up, as well as Toni's personal relationship with the country and her favorite places to see. Sweden, New York City and Scotland will also be covered during Season One.
Co-Host James Atkinson adds, "This podcast was such a joy to make, and has provided us with the chance to work with some of the world's finest travel voices and hear the inside story from them on the destinations they love so much (directly from our home studios!). And it also features wonderful stories that will put you right alongside our guests as they join ice fishers in Northern Sweden, see the blue sky and white marble of Venice for the first time and experience crushing FOMO after just missing out on an all-star comedy night in an NYC comedy club."
New episodes of "Where To Go" will be released every two weeks and are available from Acast, Apple and Spotify.
Posted: August 31, 2020