"DK Life Stories" Launches with Six New Biographies for Young Readers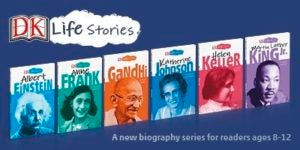 Albert Einstein, Anne Frank, Gandhi, Helen Keller, Katherine Johnson, and Martin Luther King, Jr. are the subjects of the first six titles featured in DK Life Stories, a new biography series for children. Published on Tuesday, January 8, each book goes beyond the basic facts to tell true life stories of some of history's most interesting people.
DK Children editorial spent the last two years talking with teachers, parents, librarians, literacy experts, booksellers, and kids to find out what's needed in a modern biography series. Whether kids are looking for book-report and history-project resources, or they just want to curl up with a great read, DK Life Stories has them covered.
These biographies are not simply educational, but also intended to be highly relatable for children, including details of figures' younger years, as well as their greatest accomplishments. With brand-new content developed by a team of experienced authors and illustrators, the DK Life Stories series is geared toward children aged 8 to 12 to engage them with important figures and key topics like history, social justice, science, and other areas.
Full-color photographs and hand-drawn illustrations complement age-appropriate text. Full-page quotes and photo galleries scattered throughout each book keep the momentum going, helping reluctant readers along as they navigate the chaptered books. A handy reference section at the back makes this series ideal for school reports and projects. All of the information contained within the books has been carefully vetted and approved by respected literacy and subject experts.
Meet the DK Life Stories authors:
Diane Bailey (author of DK Life Stories: GANDHI) has been a writer and editor for 25 years, and she specializes in writing nonfiction books for children. She is a member of the Northeast Texas Writers Organization, as well as the Heartland Writers for Kids and Teens, a group of children's writers who live in the Kansas City area.
Laurie Calkhoven (author of DK Life Stories: MARTIN LUTHER KING, JR.) is the author of many books, including George Washington: An American Life and Harriet Tubman: Leading the Way to Freedom. She has also written books on Misty Copeland, Mae Jemison, Jesse Owens, Lin-Manuel Miranda, and others. Laurie has always been fascinated by history, and especially by the ordinary people who got caught up in extraordinary moments in history. He lives in New York City.
Stephen Krensky (author of DK Life Stories: ANNE FRANK) has published more than 100 fiction and nonfiction books for children. He lives with his wife in Lexington, Massachusetts.
Wil Mara (author of DK Life Stories: ALBERT EINSTEIN) is an award-winning author. He has written extensively for children, including more than 50 titles in the Rookie Biographies and Rookie Read-About series, as well as five titles for the bestselling The Boxcar Children series.
Libby Romero (author of DK Life Stories: HELEN KELLER) was a journalist and a teacher before becoming an author. She has written dozens of books, including the biography Ibn al-Haytham: The Man Who Discovered How We See, as well as teacher guides, interactive whiteboards, and a variety of other materials, including National Geographic's Explorer magazines and the Smithsonian Institution's TweenTribune.
Ebony Joy Wilkins, PhD, (author of DK Life Stories: KATHERINE JOHNSON) is a writer of children's literature and professor of English and education. Ebony's education research centers on African American children's literature and children's written responses, and her stories for children and teens aim to highlight marginalized voices. Her debut novel Sellout, is the story of an African American teen trying to find her place in the two very different worlds where she lives, the all-white New Jersey town where her parents raised her and her Grandmother Tilly's beloved Harlem, NY. Ebony currently resides in Chicago.
Additional biographies will be added to the DK Life Stories publishing program throughout 2019.
Posted: January 8, 2019