DK Unveils Anthony Daniels' Memoir, I AM C-3PO: The Inside Story at Star Wars Celebration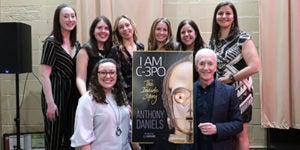 Star Wars actor Anthony Daniels (best known as the golden droid, C-3PO) revealed the title and jacket of his upcoming memoir, I AM C-3PO: The Inside Story in the DK booth at Star Wars Celebration in Chicago on Saturday, April 13.  With help from Penguin Random House colleagues, an in-booth photo op with 100 eager fans, and many more on-lookers, followed the reveal.  Daniels had previously teased the reveal in the highly anticipated Episode IX panel, as well as during an appearance on The Star Wars Show Live! 
On Friday April 12, DK hosted an exclusive book launch party for Daniels, inviting local independent booksellers and Disney Lucasfilm employees, as well as Penguin Random House colleagues and talent (including Timothy Zahn, Claudia Gray, Alexander Freed, Delilah Dawson, Marc Thompson, Jason Fry, Christian Blauvelt, Liz Heinecke and Cole Horton). Daniels hosted a private reveal of the cover/title, met with booksellers, and encouraged attendees to take photos with him next to the book jacket.
Anthony Daniels has appeared in more Star Wars movies than any other actor (10 of the 11 so far released or currently in production). In addition, as one of the first actors to become involved in the production of the original Star Wars in 1975, Daniels has a unique perspective on the creation of the entire Star Wars saga, spanning 40 years of incredible movie-making magic.
The cover reveal was a huge success – thanks to the help and support from Penguin Random House colleagues.  To view more photos from both Friday and Saturday's Star Wars Celebration events, click here.
I AM C-3PO: The Inside Story by Anthony Daniels, foreword by J.J. Abrams goes on sale November 5, 2019.
Posted: April 25, 2019